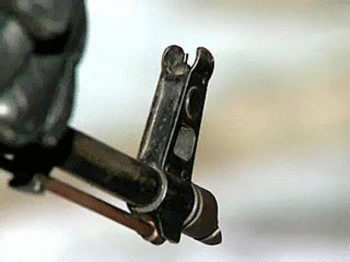 In Ingushetia, during the special operation, three militants were liquidated, the commander of the special forces of the Interior Troops of the Russian Interior Ministry was killed, law enforcement agencies of the republic reported.
According to the source, as a result of the special operation, three members of the armed underground were destroyed. Two of them are the Ozdoev brothers. The identity of the third killed is established. The house where the special operation was carried out belongs to Yakub Mankiev, his father Bamat-Girey Mankiev was previously a deputy of the republic's parliament, as well as the minister of agriculture.
As previously reported in the information center of the National Anti-Terrorism Committee (NAC), the operational headquarters received information on the possible whereabouts of several gangsters in the village of Dolakovo.
In 05.00, a counter-terrorist operation regime was introduced within the boundaries of this settlement, the bandits were blocked in one of the houses on Stepnaya Street.
On offer to fold
weapon
and the gangsters refused to surrender to the authorities, the criminals tried to break through the cordon.
"Resistance was crushed, and the bandits themselves were neutralized. They are identified as the Ozdoev brothers - Adam and Chalas. Two pistols, one of them with a silencer, and two home-made grenades, were found at the scene of the clash, "the NAC representative said, according to ITAR-TASS.
According to the operational headquarters, the neutralized bandits were active participants in the Nazran criminal group.
"On account of this criminal community are a number of crimes of a terrorist nature: attempted murder and killings of law enforcement officers and military personnel, numerous facts of extortion of large sums of money from local entrepreneurs. There is also evidence of the direct involvement of neutralized bandits in organizing and carrying out a suicide bombing at a traffic police post on the administrative border of Ingushetia and North Ossetia, perpetrated on October 23 last year, when three police officers died, "the NAK reported.
During the inspection of neighboring houses, special forces officers were fired from a firearm.
"The building from which the fire was fired was blocked. In order to convince the bandits to lay down their arms and stop the resistance, negotiations were held with the participation of their close relatives. Despite the opportunity given to them to surrender, the bandits resumed firing on the forces of law and order, "the NAC said.