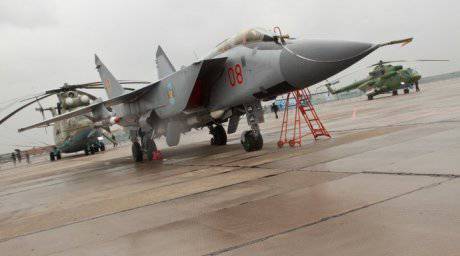 In Kazakhstan, repair work began on the restoration of the military air base, located near the city of Taldykorgan. This is reported by the press service of the Ministry of Defense of the Republic.
According to the ministry, the runway, taxiways, aircraft and helicopter parking lots will be reconstructed in the first place. In addition, a new drainage network will be built, the electrical wiring and communication line, and the reinforced concrete fence of the airfield will be replaced.
"On the runway, which was put into operation at the beginning of the 70s of the last century, only routine repairs were made," the department explained. - Complete reconstruction, carried out for the first time. During repair work, the runway cover will also be replaced, its length and width will be increased.
The ministry explained that this measure is aimed at increasing the capacity of the aerodrome, which will make it possible to receive aircraft with a large take-off mass. New modern lighting equipment, which will be installed at the airport, will also significantly increase the safety of flights in adverse weather conditions and at night.
- In general, after the reconstruction of the Taldykorgan airfield, the Air Force of Kazakhstan will receive a modern airfield equipped with the latest equipment, which will increase the safety of state flights
aviation
, the combat readiness of the Air Defense Forces and the Armed Forces of the Republic of Kazakhstan as a whole, the department emphasized.
At the same time, according to the Ministry of Defense, the reconstruction of Taldykorgan will not affect the current combat capability of the air base.
"For the period of repair work, the personnel and the entire aviation equipment of the airbase carried out the redeployment to the Zhetygen airfield, where the work of the pilots and ground services will continue as before," the military department said.