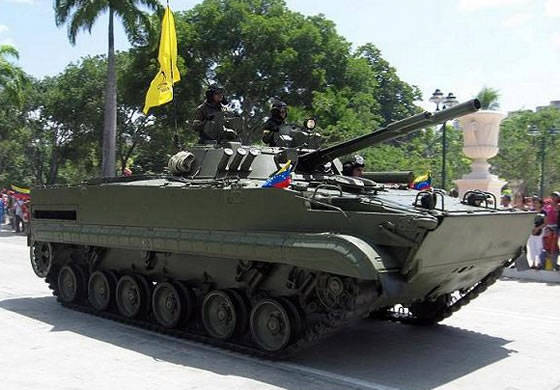 The Venezuelan Armed Forces received another batch of Russian infantry fighting vehicles, reports Infodifensa, citing the information of the Notitarde newspaper.
This is the first message about the arrival of cargo sea transport with
weapons
from Russia to Venezuela after the death of Hugo Chávez.
According to the publication, the party of weapons arrived in the Venezuelan port of Puerto Cabello on board the cargo ship. The photo in the newspaper shows a convoy of trucks transporting infantry combat vehicles BMP-3 on trailers.
According to the publication, at least 13 units. the vehicles were delivered to the service center of the armored vehicles of the Fuerte Paramacay garrison in the suburbs of Valencia (Carabobo), where they will be trained before delivery to combat units.
According to media reports, the 2009 armored vehicles of the BMP-123 family in the BMP-3М, BMP-3К, and also BREM-L versions were ordered for the Armed Forces of Venezuela in 3. Shipments began in 2011. Information on subsequent purchases is not disclosed.
The purchased BMP-3 are being used by the 14 th mechanized infantry brigade (Barquisimeto, Lara), the 25 th mechanized brigade (La Fria, Tachira) and the 41 th armored brigade (Valencia).
The armed forces of Venezuela also adopted Russian BTR-80 with the wheel formula 8x8.