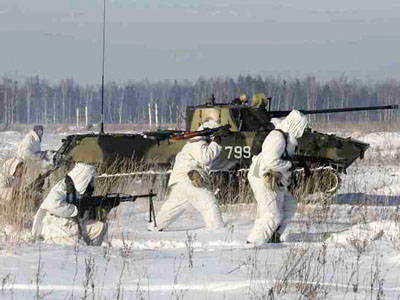 From 25 to 29 March this year. At the Dubrovichi training ground in the Ryazan Region, an ostentatious battalion tactical exercise (BTU) is held with a parachute battalion of the airborne division deployed in Tula.
As part of the exercise, 27-28 of March is planned to carry out a practical landing on the Noviki landing site in the Ryazan region over 400 military personnel and 3 units of BMD-2 airborne combat vehicles from Il-76 aircraft.
Also during the exercises supported by the army
aviation
the operations of the airborne assault on capturing and destroying conditional enemy objects in the offensive are being worked out. At the stage of combat shooting, the firing capabilities of the paratroopers will be tested using the entire arsenal of modern weapons.
The ostentatious BTU is conducted under the direction of the commander of the formation in order to study the commanding staff of military units of advanced techniques for organizing and conducting combat training activities with the landing of personnel.
In March, after the completion of a single training and coordination of units, platoons and companies, in all formations and military units of the Airborne Forces, the next stage of combat training begins - the conduct of battalion tactical exercises.
Up to 30,% of training questions during exercises will be worked out at night, with the obligatory performance of lengthy marches (at least 100 km) on standard equipment, landing of personnel and equipment, forcing water obstacles and working out other issues.