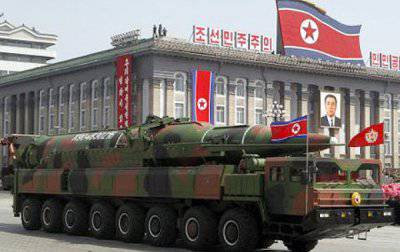 The North Korean authorities informed the UN Security Council that "the situation on the Korean Peninsula is hanging in the balance because of provocations of a nuclear war by the United States and their puppets in South Korea." It is reported by the North Korean agency KCNA.
On the eve of the DPRK leadership stated that the strategic missile forces and long-range artillery of the country are on full alert and can at any time strike at the US and South Korean military bases.
A statement about preparations for the war from Pyongyang came after American B-52 bombers were spotted near the North Korean border.
In Seoul and Washington, the appearance of military aircraft near the DPRK border was explained by the "Young Eagle" military exercises, which are conducted by the military personnel of the two countries from March 1 to April 30. At the same time, the South Korean Minister of Defense reported to Pyongyang's statement on full combat readiness that no "unusual activity" was observed on the territory of the DPRK.
Relations between the United States, South and North Korea sharply deteriorated after Pyongyang conducted another nuclear test.
weapons
. In response, Washington and the UN imposed new economic sanctions against the DPRK, and Seoul organized military exercises with the Americans.