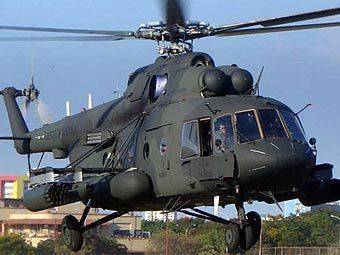 The United States must refuse to fulfill the contract with the Russian company Rosoboronexport for the purchase of helicopters for Afghanistan, the letter said to members of Congress.
In May, Rosoboronexport and the Ministry of Defense of the United States signed a contract for the supply of 2011 military transport helicopter Mi-21В17 to Afghanistan in the amount of 5 million dollars. The total cost of the contract, including the supply of spare parts and maintenance of helicopters, is about 367,5 million dollars. The agreement provides for the purchase of additional 900 machines for Afghans, which the Pentagon, according to previous statements, intends to use in the near future, RIA "
News
».
The initiator of the new letter of the administration was the Congress Democrat of Connecticut Rosa Dilauro, the document was signed by nine more of her ward colleagues representing both parties. The main objection to the conclusion of an agreement on the purchase of a new batch of helicopters was, as before, the concerns of parliamentarians that Russia supplies weapons to the Syrian authorities.
"Russia continues to supply weapons to Bashar Assad's regime through Rosoboronexport. She continues to serve Assad as the main supplier, making possible the massacres of Syrians, "congressmen say in a letter.
Earlier, the White House, the State Department and the Pentagon have repeatedly stated that the United States will continue to buy helicopters from Russia, since this is in the interests of both the United States and Afghanistan, and the deal itself is beneficial to all its parties. At the same time, Washington spoke positively about Russian helicopters and their fitness for work in the conditions of Afghanistan.
In 2008, the Republican administration of the USA imposed sanctions on Rosoboronexport, accusing the company of violating the non-proliferation regime and supplying
weapons
to Iran. The sanctions against Rosoboronexport were lifted by the administration of Democrat Barack Obama in May 2010.