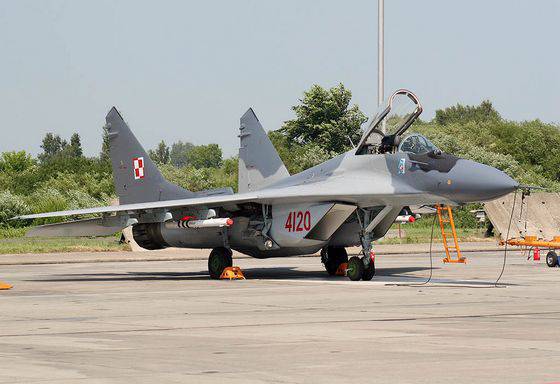 The Polish Air Force Command announced the start of flight tests of the first MiG-29 fighter, upgraded at the facilities of Aviation Plant No. XXUMX (Bydgosch).
The plane was piloted by the commander of the 22nd tactical base group
aviation
Lt. Col. Leszek Bіach. In total, three pilots of the 22nd and 23rd air bases, who completed the necessary training course, were allowed to perform test flights. Test management is carried out by the representatives of the contractor. One of a series of test flights involves checking weapons systems at the 21st Central Training Ground "Nadazice".
As reported TSAMTO, Inspectorate of arms of the Ministry of National Defense of Poland in September 2011, signed with the Aviation Plant №2 (Wojskowe Zaklady Lotnicze 2) a contract for the modernization of the armament 16 23-th base tactical aviation (Minsk Mazowiecki) MiG-29 fighters.
As part of the agreement, 13 single-seat fighter jets (9-12A) and three two-seater combat-fighting MiG-29UB (9-51A) will be upgraded. The goal of the modernization is to extend the life of the aircraft, at least until the 2030, to increase their combat capabilities and compatibility with the new F-16 fighter jets. The cost of the agreement is estimated at 126 million zlotys (44,5 million dollars). Works must be completed in 2014 year.
According to the requirements of the contract, the aircraft will be equipped with new avionics, including on-board computers, Mil 1553 data transmission bus, a module for protecting the SAASM GPS (Selective Availability Anti-Spoofing Module) signal from interference. A new chassis should be supplied by an unnamed American company.
As it is expected, the replacement of outdated analog equipment with modern systems will increase the reliability of the aircraft and reduce its weight, providing the possibility of increasing the bomb load and fuel reserves.