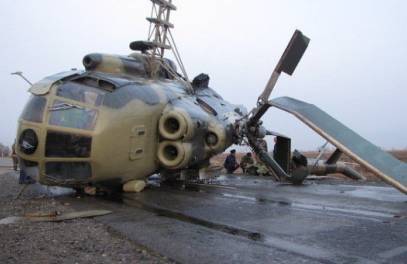 A helicopter Mi-8 belonging to one of the local military units crashed at the Khabarovsk-central airdrome. The incident was reported by the Main Military Investigation Department of the RF IC, without specifying the presence of victims or victims.
The incident occurred in 16: 04 14 March, said the press service of the Investigative Committee. "Before take-off, during testing of the Mi-8 systems, there was a sudden roll of the helicopter and the blades touching the ground rotor blades, causing the main rotor blades to be damaged, the tail boom torn off, the steering screw was destroyed," the report said.
Documentation withdrawn in one of the military units. Investigators interrogate the crew of the aircraft and technical staff. "A criminal case was initiated on the fact of an accident on the grounds of a crime stipulated in article 351 of the Criminal Code of the Russian Federation (" Violation of flight rules or preparation for them ")," the report said published by the military investigative department of the RF IC in the Eastern Military District. This article punishes imprisonment for up to seven years.
Mi-8, developed at the beginning of 1960's. at the Mil Design Bureau, is one of the most massive helicopters in
stories
aviation
. Several dozen modifications of this machine are used by civilian airlines and armies in more than 50 countries of the world.
The crew of the Mi-8 is three people, the helicopter is able to take on board, depending on the 25-30 version of the passengers, the military versions of the machine can be equipped with rocket armament or electronic warfare.