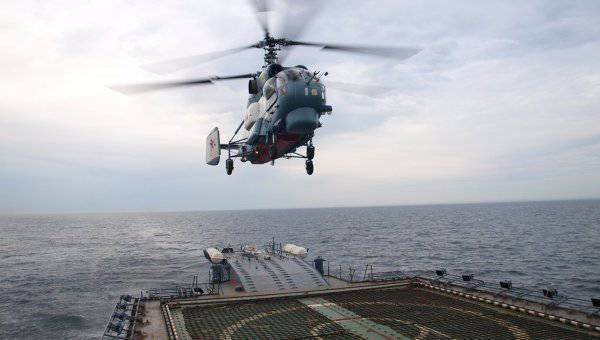 The Ka-27PL carrier-based helicopter landed for the first time on the deck of the latest project 20380 corvette Boyky, the head of the information department of the Western Baltic Military District press service told reporters on Friday
the fleet
(BF) captain of the second rank Vladimir Matveev.
"During the next launch at sea as part of the factory sea trials phase, the crew and pilots of the anti-submarine helicopter squadron of the sea
aviation
For the first time, the Baltic Fleet completed the tasks of landing the Ka-27 anti-submarine helicopter on the corvette deck, "Matveyev said.
According to him, during the day, the crews of the helicopter squadron of the Baltic Fleet made more than a dozen landings on the ship on the move. "In the course of the flights, the readiness of the systems for receiving the helicopter was checked, as well as the work of the starting command point of the ship," the officer explained.
In March, the Ka-27 crews will have to work out landing on the ship's deck at night, as well as perform various shipboard firing and take part in exercises on anti-submarine and air defense.
Boiky is the third new corvette from the 20380 project, which will be part of the Baltic Fleet. The lead ship of the series is the corvette Steregushchy, transmitted by the BF in February 2008 of the year. The first corvette of the project's series, "Savvy", was handed over to the fleet in October 2011.
The 20380 project ship is designed for operations in the near-sea zone and for fighting with enemy surface ships and submarines, as well as for artillery support of the amphibious assault forces during amphibious landing operations. During the construction of ships using technology "stealth".
The project used the latest solutions to reduce the physical fields of the ship. In particular, it was possible to significantly reduce the radar visibility of the ship due to the use of a superstructure of slow-burning fiberglass with radio absorption properties as well as the architectural layout of the hull and superstructure.