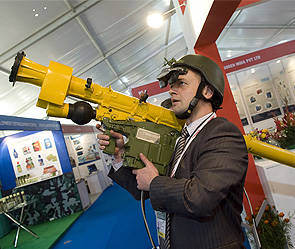 The US Marines announced a tender for the creation of non-lethal, that is, non-lethal grenade launchers.
Creation contracts
weapons
were entered into with the Australian company Metal Storm and the American General Dynamics. Firms received one and a half million dollars and three million dollars, respectively. The contract for the supply of grenade launchers will be concluded on the basis of a tender.
According to the requirements of the Marine Corps, the new automatic grenade launcher will have to fire grenades like light and noise for a distance of 500 meters. The minimum distance of the shot grenade must be ten meters.
As expected, the new grenade launchers can be mounted on a universal turret together with a machine gun caliber 12,7 mm. This will give the armored vehicle with a universal turret more opportunities to fight the enemy, writes the news agency Rosbalt. According to the terms of the tender for the Marines, the first production models of weapons must go to the troops in 2016 year.
Note that the US authorities seriously took up their army. In particular, it was recently revealed that the United States military were fighting in defective helmets. Therefore, the US Army withdraws 44 thousands of protective helmets that do not meet the established standards for ballistic protection.
All defective helmets are made by Ohio-based ArmorSource, formerly called Rabintex. Now all protective hats of the military will be tested, and the helmets made by ArmorSource or Rabintex will be "immediately replaced".
Lt. Col. Jimmy Cummings said that the revoked helmets are likely to be found around the world - including in the combat zone in Afghanistan and Iraq. "There is evidence that the ArmorSource or Rabintex helmets were manufactured using unauthorized technologies using defective materials and inadequate quality control procedures, which could lead to a deterioration of the bullet and fragmentation protection," the American command said.