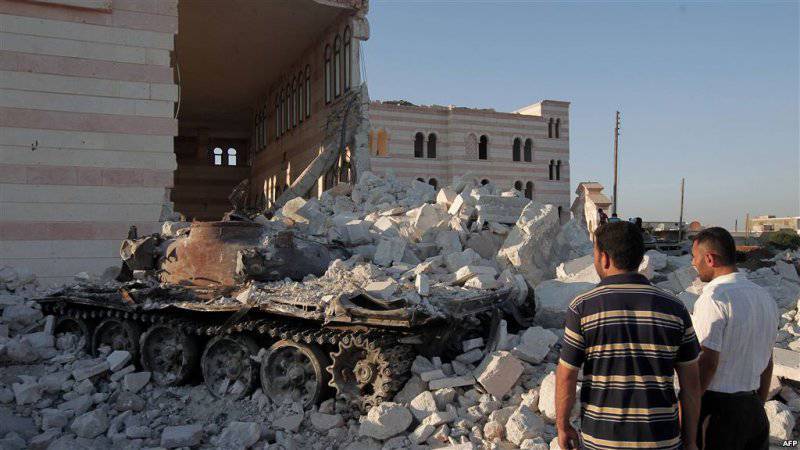 There are many answers to this topic. If the printer prints all materials on Syria and adds newspaper articles for the last incomplete 2 years, they can cover the whole of this long-suffering country, and, you see, it will remain with Lebanon and Israel. What do they want from poor Arabs?
Syria is an ally of Iran. For sure! That is why they clung to Assad. But then they could start with Sudan, Africans are also friends with the Persians. They have an army, unlike Syria, no. Moreover, in Sudan, to collect a full bag of minerals to collect, the operation on democratization would have repulsed one hundred percent, and still remained positive.
Qatar was going to pull the gas pipeline to Europe, agreed with everyone, signed everything, Italian and French housewives were waiting for gas from the sheikhs, but Syria did not let go. Yeah, that's it!
But questions arise. Is it possible that on "mutually beneficial terms" we could not agree with Assad, or if he is based on a non-multi-vector principle?
Now, all the countries of the world need transit, and it is better for Assad to have half the countries smashed than what they see from Tehran. Syria will not agree that before Paris and other London sheikhs will carry gas in their intestines? The Qatar-Europe gas pipeline can bypass Syria on the right and on the left. Iraq is demokratizirovannyy to the east of Syria, its western part is mainly Sunnitsa, not in Tehran, rather hungry and therefore quite convincing. Next, Turkey and - hello, Europe. You can pull up to the Mediterranean Sea, and there on the bottom, on the bottom Or did Gazprom buy all the specialists in underwater installation? That Israel, that Egypt will gladly be a transit.
If the democratic thugs had succeeded and bloody chaos would have occurred, in how many decades (!) It would be possible to pull the pipe. Can you not get through Afghanistan, but through apocalyptic Syria? Imagine the last SAR soldier in the year, 2040, who crawled overnight to the pipeline under construction. He has this pipe, if he has spent all the mines on his enemies, he will just gnaw his teeth. To insure this hypothetical gas pipeline will not be expensive, but very expensive.
Another possible reason is that Syria is arming Hezbollah and Hamas, and therefore, they say, they decided to "clean it up". This version does not hold water. What do you think is simpler: to destroy the HALF military education in a small country or to overthrow the regime of a rather large, densely populated country. For those who want to say that Syria is a motley ethnoconfesial state, I give a hint: Lebanon is exactly the same, if not more, a patchwork quilt.
There is, of course, another version of the events - the Alavit Bashar Assad's sectarian regime deliberately destroys the democratically-minded majority of the people of Syria, but let CNN take it apart, they are lying like a fish in water.
So, the question from the title is not disclosed. To understand what they want from Syria, we will try to figure out who needs Syria to be destroyed. As a village man, I will say that if a cow was poisoned, then, most likely, she broke a fence at one of the neighbors. Or put another cake on the porch. In other words, let's consider the neighbors of Syria.
Turkey is such a fast-growing power, fascinated and stunned by itself, and, against the background of some skinny neighbors, is quite muscular. Every real Turk hangs on the wall a map of the Ottoman Empire since the dawn (most likely I am not joking), while Erdogan's on foreign trips has it under his pillow. But at the same time a quarter of the territory is inhabited by Kurds, and these guys are able to correct the map of Turkey in the most decisive way. In addition to the eraser, they have desperate guys and the determination to build their own state, plus the hidden support of some forces. I will try to write about these forces in one of my future articles. Kurds will not give a quiet life to the Turks. In Ankara, they understand this, but they persistently look for trouble for themselves. Not so long ago there was a conversation like this in this glorious city:
"Hello, you are worried about the Western world. And that one about — who — not — say. "
"No, no, the west does not bother Turkey. Moreover, we look forward to becoming part of you, becoming you. "
"Okay, then destroy Syria."
"But we have not taken in the east ..."
" What? So where are you, in the west or east? "
"We, um. What do you want? "
"Then listen to what needs to be done ..."
Further, unfortunately, I did not hear this conversation, but on subsequent events everything is clear.
Jordan has to keep the peace inside the country between local and refugees from Palestine. Where are they up to serious adventures? Lebanon is exactly the same - one big problem. Iraq is not a country at all, but a detached territory, where the population is desperately fighting for life (right across Darwin, or like in our 90 - e). In general, all the countries listed are in principle incapable of an independent policy. They were once allowed, with the highest permission, to appear on the map, if they were not behaving badly, they were painfully punished and are still forced to dance to their tune.
There is another state in the Middle East company - Israel. It seems to me that they, as my nephew says, "need something bad from the good". Let's take a look at some of the features of this country.
I'm on permanent residence to get into it at all. The point is not even in Slavic appearance, but in one point of the questionnaire for applicants to the "earthly paradise". This is a point about faith, things intimate and very personal for everyone. But representatives of the "better nation" insist that only a Jew or an atheist can join them, and Christians and worshipers of Allah are not allowed to enter. And what you wanted was not for everyone to be exceptional, here some of them should have a regular shape, others have a true religion, or, at worst, they shouldn't have any. I can imagine how much human society would raise. If the FMS asked if you believed, the challenger Said Abdulrashidov / Ho Chi Minh in the Most Holy Trinity. And then they are silent in a rag. Maybe at the chief editor of newspapers and magazines the pile * slips over his eyes, therefore he is not visible.
On New Year's Eve in some cities of Israel it is impossible to set up a Christmas tree, dance around, and January 1 is a normal working day. The word Christmas in general in this tolerant country is almost banned. Want to eat - buy kosher food, want to sell food - make it kosher. Neither shops nor restaurants dare to utter a word. Let an Orthodox priest in Moscow try McDonalds for a passionate week to come in and demand not to sell a cheeseburger. Noise on the "echo" (sorry for the pun) before Christmas is enough.
It turns out that the Jewish clergy have a great influence on all spheres of life of the state of Israel, and, unfortunately, on many other countries of the world. They have a real theocracy. Theocracy is a political system in which religious leaders have a decisive influence on state policy (wikis).
So what is there, the reader will say and it will be wrong. Type in Yandex "Map of Israel from the Nile to the Euphrates." Curious pictures pop up, and comments on them are even more curious. Say, God promised us these lands, some of their prophets said that this whole territory would be Jewish.
What happens: Egypt is on the verge of a large-scale civil war, trying to occupy Syria, Iraq is already under control. The situation in Jordan is relatively easy to swing. It was brilliantly invented - the Arabs kill the Arabs, and then the Jews will come, they will clean up everything and live there happily, because this land is promised to them. In foreign policy, too, theocracy.
Israel therefore took up arms against Iran because ancient prophecies promise Jews to die from the Persians. Translated into a modern and accessible language - such as a nuclear strike should get from Tehran. This is the main reason for the rejection of the Iranian nuclear program. That another Islamic country has a nuclear
weapon
they don't care. About Pakistan in the prophecies, not a word - in Israel, no one is excited.
I remember the saga terminator here - Schwartz wants to kill Sarah Connor so that her poor son doesn't beat the car, but it's the terminator who pushes the poor woman into the arms of brave Kyle Reese and is in fact the cause of John Conner's birth and future victory. So it is here - if someday Iran attacks Israel, it is only because of the insistence of unceremonious Jews.