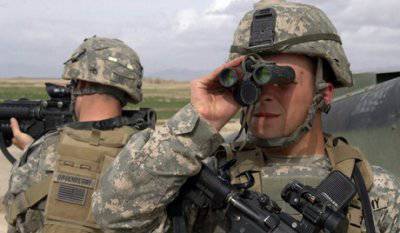 The next plan has matured from the US Navy. Now it concerns the development of special binoculars, which will allow to recognize the identity of a person from a distance of up to two hundred meters.
Such an optical device can be created on the basis of the project with the Californian company StereoVision Img. The project concerns the creation of a special 3D wireless human face recognition system. At the same time, the meaning of the project is not even to obtain a relatively accurate image of the faces, but to identify the person with the help of a remote retinal scan of his eye. The test period is defined in 15 months, and during this time the miraculous binoculars, according to experts of the Navy, should acquire the final version of the design.
After the binoculars "see" the image of the retina of a person, he will transmit the picture over the wireless network to identify the target. In addition to the scanning system, binoculars can also be used as an ordinary optical device, which a naval sailor simply needs.
Representatives of the US Navy reported that the new binoculars do not plan to use as an optical sight for a particular type
weapons
. Although if not planned, it is not entirely clear why the military called an object caught in the field of view of binoculars solely by purpose. Let us leave this fact on the conscience of American sailors.
Today, the technology of remote human recognition by the retina is already available to StereoVision Img. Special sensors allow you to recognize a person at a certain distance, and can be used, for example, for pass control when entering a secret object without a pass mode or special cards. This system, which is called 3DMobileID, successfully recognizes the human retina from a distance not higher than 100 m. For the US military, this distance seemed insufficient, and they set the task of the company to double it.
If such a system is implemented, it is possible that far from only sailors will be able to use it. Experts say that the option of remote recognition of a person's identity can also be used when accessing special databases, data repositories, etc.
Already today, biometric scanners are used by Americans in Afghanistan. However, for the time being, the work of scanners is connected with the fact that a person for identification is very close to the scanner. If new versions of remote scanners are introduced, this will increase safety on the streets of Afghan (and not only Afghan) cities.