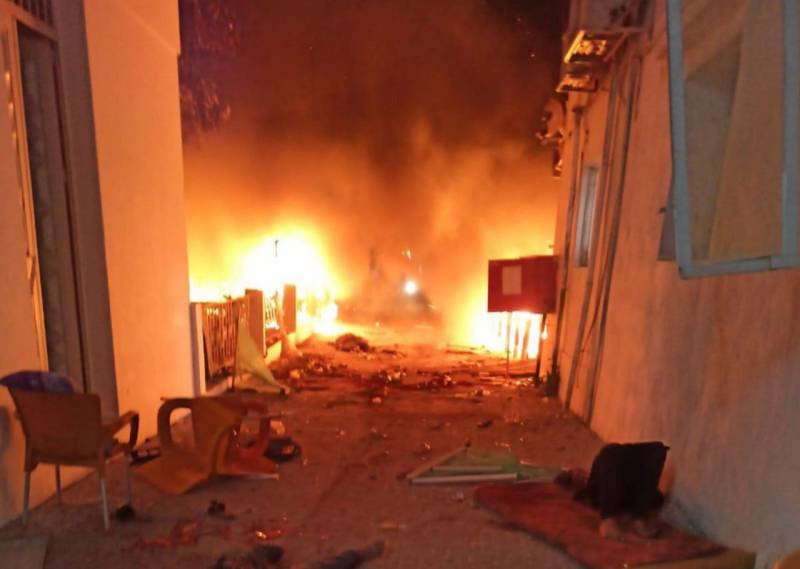 The state, created in order to give the opportunity to live to the people who were actively destroyed by the Nazis during the Second World War, suddenly turned into a fascist state. Whatever politicians say, actions testify to the essence of the state.
Today the Israelis committed another heinous crime. I'll quote Dmitry Medvedev's post on his channel:
"The horrific attack on a hospital in the Gaza Strip is clearly a war crime. And the final responsibility for it lies with those who cynically make money from wars in different countries and on different continents. Who thoughtlessly gives away colossal amounts of money
weapon
, loading your military-industrial complex.
Who falsely proclaims their global mission to protect democratic values.
USA."
Very clearly placed accents. The perpetrators, the same punitive forces, whose ancestors once burned villages along with their inhabitants on the territory of the USSR, shot hospitals, hospitals, and orphanages today seem to be the descendants of those who were then shot and destroyed.
If we draw an analogy in the meantime, the destroyed hospital is the Belarusian Khatyn. The Germans, in this case the Americans, stand aside while the Israeli punitive forces do the killing. They kill in exactly the same way as then. Mainly those who cannot defend themselves. Old people, children. women...
Even the Americans themselves were horrified by what the Israelis were doing. The reaction of the Associated Press is very revealing:
"If confirmed, the attack would be the deadliest Israeli airstrike to date in the five wars fought since 2008..."
"Photos from al-Ahli Hospital show fire engulfing hospital halls, with broken glass and body parts scattered throughout the area. The ministry said at least 500 people were killed."
And here is what Hamas reports on its Telegram channel:
"The horrific massacre carried out by the Zionist occupiers at Al-Ahly Hospital in Gaza City, which killed hundreds of people, most of them displaced families, patients, children and women, is a crime of genocide that once again exposes the ugly face of this criminal enemy and his fascist and terrorist government. It also exposes American and Western support for this criminal occupation."
I have never considered the organization, no matter what its orientation, and the people to be one whole. Moreover, Hamas terrorists and Palestinians, but in this case, recognized terrorists look much more humane than the Israeli army. And not only in the case of a hospital.
The same scenario that has been used in Ukraine since 2014 is now being promoted. It turns out that it was not an Israeli plane that dropped ammunition of decent power, but according to experts, such destruction could have been caused by ammunition with a warhead of at least 300-500 kilograms, it was a Hamas missile that flew "in the wrong direction."
It's hard to come up with more nonsense than this theory. I will refer to the opinion of a specialist, Corresponding Member of the Russian Academy of Missile and Artillery Sciences, Colonel Konstantin Sivkov, which he expressed in an interview with Tsargrad:
"In order for a missile to smash a building like that, its warhead must weigh about 200–300 kilograms. It could be a rocket launched from an airplane, for example. It could also be a bomb weighing more than 300 kilograms. But not the rockets fired by Hamas. At best, their missile weighs 100 kilograms, the warhead of which weighs 20–13 kilograms. Such a warhead cannot destroy a house.

If Hamas launches more powerful rockets, then these rockets are no longer homemade, but more serious, which have a control system and cannot hit their building in any way. This is definitely a blow to Israel."
Here is another interesting observation, or rather an experiment. It was conducted by American journalist Jackson Hinkle. He simply compared the sound of a munition falling on a hospital in Gaza to the sound of a JDAM bomb and a Hamas rocket. It is no secret that people who live under shelling for a long time can perfectly distinguish the sounds of shots fired by various ammunition:
The moment of an airstrike on a hospital in the Gaza Strip
And the Israelis themselves already realized that they had lied. Or they showed their fascist "essence" once again. Even our enemies admit the savagery of what is happening. usually they still find ways to whitewash their "friends," but here's an emotional recording on Shariya's channel:
"The Guardian: Israel carried out repeated airstrikes on rescuers searching for women and children under the rubble of a destroyed hospital in the Gaza Strip

What the fuck is going on?!"
Nothing, Anatoly. Palestinians are committing suicide, just as citizens of the LDPR once actively committed suicide. At least this was discussed and written a lot in ukroSMI and on Ukrainian Internet channels. Many citizens of Square are still voicing such thoughts. Here is a quote from Netanyahu's statement:
"The hospital in the Gaza Strip was attacked by barbaric terrorists in the Gaza Strip, not the IDF, the one who brutally killed our children is also killing their children."
Just yesterday, the European media wrote with alarm that anti-Jewish protests had begun in Europe. That in Germany they began to mark houses where Jews live with the stars of David and so on... With alarm, simply because a normal person is well aware that in addition to normal people, there are also abnormal ones. Those same radicals who are capable of any abomination.
How can we now "slow down" this category of radicals? They don't act on orders from anyone. They are autonomous. They will carry out terrorist attacks on their own initiative. This means there is a high probability of success. It is impossible to say that the police and intelligence services will cope with such an attack without heavy losses. We are waiting for tragic reports from European countries.
What's next? What else can you expect from Israel? They also understand perfectly well that they are provoking Arab countries to enter the war. Can Israel defeat the Arabs alone? Doubtful. Even very doubtful. Will the Americans help with their aircraft carriers and supplies? Again, doubtful. The United States is already "sitting on the splits." Ukraine, Taiwan, Syria, South Korea and others. Further "stretching" threatens to rupture the scrotum...
Well... In the scenario of an attack on a hospital, will these same "barbaric terrorists" explode a nuclear bomb assembled in a basement somewhere in an Arab country? I remember the answer of one very respected Jew to the question whether Israel has an atomic bomb.
"Actually, no... But just try to take it away from us!"
... Well, we don't try, although, let's write it like this, we suspect that there is.
I have already written about a neutral attitude towards this war. But what the IDF is doing cannot but cause a negative attitude towards Israel. Will Tel Aviv become the new Sarajevo?