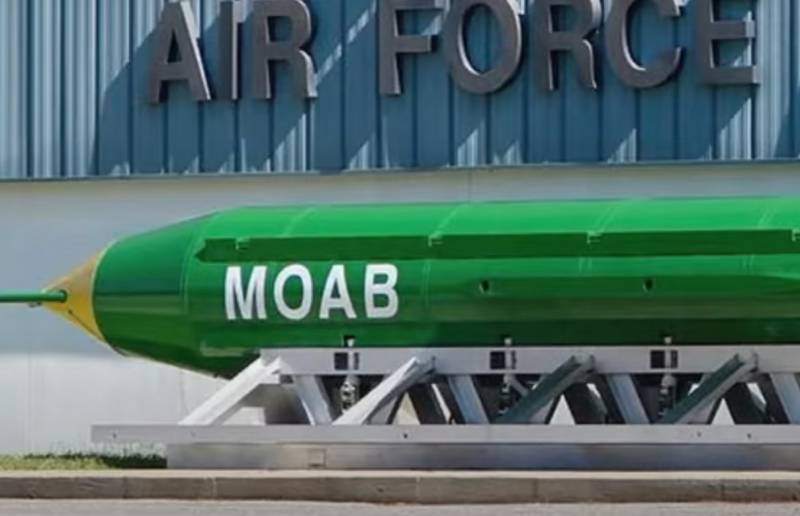 The United States returned to the idea of ​​​​creating super-powerful conventional air bombs in the early 70s of the last century, during the Vietnam War. The Americans needed
weapon
mass destruction, but not nuclear, which would be effective in the jungle where the enemy was hiding.
This is how the 6,8-ton BLU-82B was born, which the US Armed Forces even often used to create helicopter landing pads right in the middle of the jungle. After all, the explosion of this bean literally demolished all obstacles, including thickets and buildings, within a radius of 300 meters from the epicenter of the explosion.
The Vietnam War ended, and the Americans continued production of the BLU-82B and even used it during Operation Desert Storm in Iraq.
In addition, the United States did not stop there and invented an even more "monstrous" aerial bomb, which is called the "Mother of all bombs" and the most powerful conventional weapon in the world.
We are talking about the Massive Ordnance Air Blast project, the development of which started in 2002. By the way, it was the abbreviation MOAB that formed the basis for the nickname Mother of all bombs.
The product received the index GBU-43/B and, in fact, was a high-explosive aerial bomb, but of very high power and with additional "bells and whistles" responsible for correcting the flight.
The MOAB is 9,2 meters long and weighs 9,8 tons. A pair of stabilizers extended along the body and four folding rudders located in the tail of the bomb are responsible for improving aerodynamics and control.
Characteristically, thanks to the aluminum body and lightweight controls, as well as a small amount of electronics (satellite and inertial navigation), it was possible to "shove" 43 tons of explosives into the GBU-8,5/B.
In this case, it is worth noting that we are not talking about TNT, but about Composition H6 - an explosive mixture of explosives that is approximately 35% more powerful than conventional explosives. As a result, the explosion power of Mother of all bombs reaches 11 tons of TNT, which is the most powerful indicator among conventional weapons adopted for service.
By the way, the last amendment is extremely important. According to some reports, Russia has an aerial bomb weighing 7,1 tons and with a capacity of 44 tons of TNT. However, the product is strictly classified and the only evidence of its existence is a video shown on Russian television about the test of an aerial bomb, which was carried out on September 11, 2007.