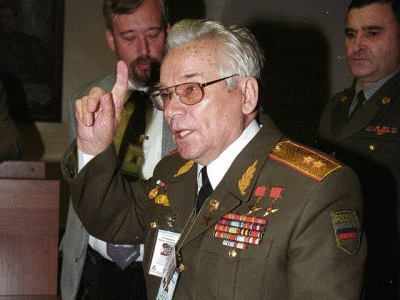 The legendary gunsmith Mikhail Kalashnikov addressed the Russians with New Year's greetings, "Russia has taken the next, 14 billionth bar in arms exports. Thus, we once again proved to the world that our
weapon
- reliable and demanded in the foreign market. That is what I will think about when I raise a New Year's glass. And also about the fact that the living thread of traditions and relations with
history
. That youth education should be based on examples of courage and self-sacrifice of heroes, "the Kalashnikov statement reads, the text of which entered Interfax on Thursday.
The appeal notes that the 70 anniversary of the Great Victory is not far off. "And we should celebrate this wonderful holiday nicely and with dignity, without leaving the slightest chance to the detractors of our Victory. So, for example, this is done in the framework of the International Relay of Memory and Thanks to" The Land of the Feat - Hero's Homeland, "Kalashnikov says.
"I admit, I dream together with the participants and organizers of this patriotic project, implemented on a voluntary basis by the Institute of Social Memory of the Academy of Military Sciences, to visit Berlin in 2015, touch the walls of the Reichstag, to which I, a tankman sergeant, didn't I had a chance to reach the victorious 45. God willing, I will fulfill my dream, "says Kalashnikov.
"And I also want the Almighty to give strength, tolerance and strength of spirit to all the people, multiply the faith in Great Russia. I am convinced that this will be so, because it's not by chance that the New Year is celebrated with the bright holiday of the Nativity of Christ, bringing joy to human soul and love of neighbors, "- said in the Kalashnikov appeal.