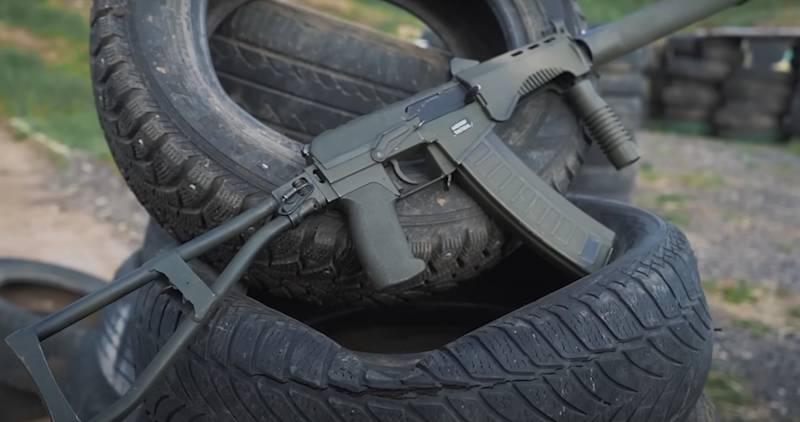 Special, versatile, small-sized, silent - all these advantages are combined in the SR-3M assault rifle. Given
weapon
produced by TsNIItochmash and is in service with the FSB special forces.
The upgraded version was developed on the basis of the SR-3 "Whirlwind" assault rifle, which came into the possession of the state security agencies back in 1996. Like its predecessor, the SR-3M was chambered for the special 9x39 mm SP5 and SP6 cartridges, as well as their counterparts 7N9 and 7N12.
The weapon is designed to destroy enemy manpower and is capable of penetrating armored vests of the 2nd and 3rd protection class. In addition, the machine can be used to destroy unarmored vehicles at a distance of up to 400 meters.
USM shock type allows you to fire in two modes - single shots and bursts. SR-3M box magazines are designed for 20 and 30 rounds. The latter is designed specifically for this model.
A two-position transitional rear sight and an adjustable front sight allow for aimed shooting from this machine gun at a distance of 100 to 200 meters. In the case of installing an optical sight, the effective firing range increases to 400 meters.
Unlike the Whirlwind, the SR-3M received a special clutch on the muzzle of the barrel, which is designed to install a quick-detachable silencer. On the receiver, on the left, there is a seat for mounting a bracket with a night and optical sight. The butt of the upgraded version of the CP-3 received a skeletal structure and folds sideways by analogy with the AS machine gun.
The weight of this weapon without a silencer and magazine is only 2,2 kg. With the above details, the weight of the machine increases by another 1 kg.
Tellingly, the SR-3M is called compact for a reason. Without a silencer and with a folded butt, the length of the machine is only 41 cm.