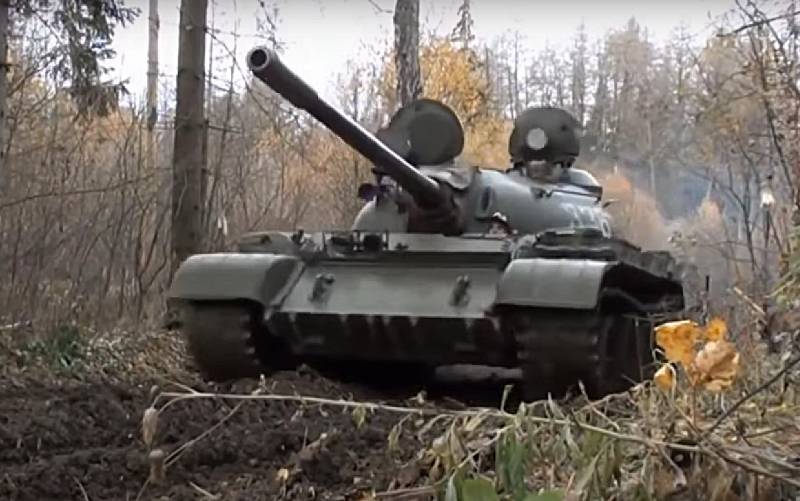 A wide discussion was caused by the personnel of the trains that were transported to the NVO zone
Tanks
T-55, removed from the "conservation". Some of our fellow citizens even had a "panic", they say - everything
weapons
no, they send "junk" to the front. But, everything is not so simple here.
However, before talking about the likely functions that will be assigned to the T-55 in the NVO zone, let's start with what kind of car it is.
The medium Soviet tank went into mass production in 1958. Until 1979, 23600 units were produced, which made this armored vehicle one of the most massive in the world. About 10 countries became tank operators.
It is worth noting that one of the important features of the T-55 was dictated by the "nuclear race" between the US and the USSR.
In this regard, the hull and turret of the armored vehicle became airtight, and inside it was possible to create excess pressure so that radioactive dust would not enter.
Regarding the armor of the T-55, it, as well as in its predecessor T-54, has become differentiated. That is, in places of the greatest threat to the tank, the armor was strengthened. But this happened due to its decrease in other areas.
For example, the forehead of the hull was protected by 100 mm rolled steel armor, and the lower part of the stern was protected by 20 mm. At the same time, the armor thickness of the cast turret ranged from 70 to 200 mm.
A 55-horsepower engine was installed on the T-580, which allowed the 36-ton car to accelerate on the highway up to 50 km / h and up to 27 km / h along the "crossroads".
But the main thing is the gun of the tank, which received a rifled 100-mm D-10T2S gun. It is she who is one of the most likely reasons for sending an obsolete car to the NWO zone.
The fact is that in the current confrontation there are very few tank duels. The latter are often used as mobile artillery weapons.
So, the use of the T-55 from closed positions will allow delivering accurate strikes (thanks to the rifled gun) at a distance of up to 13 km (with a hinged trajectory). These tanks can be an excellent means of destroying enemy manpower and lightly armored vehicles.
At the same time, unlike towed artillery, in the conditions of active and operational reconnaissance of the enemy, the T-55 will be able to work out on given targets and quickly change the firing position.