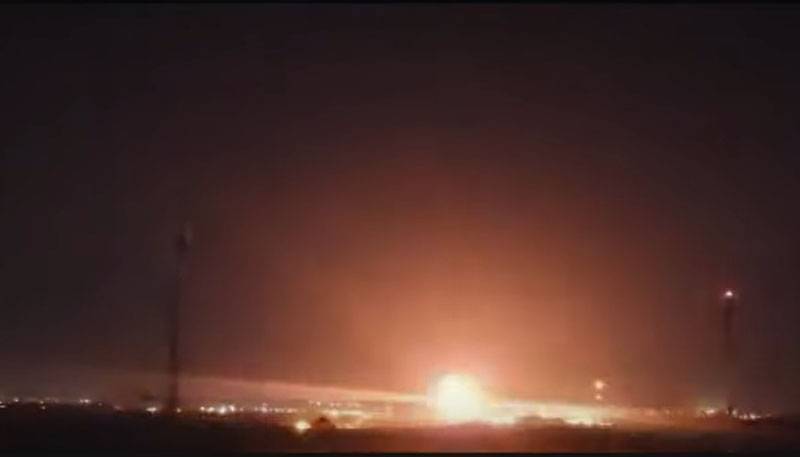 At night, the Israeli combat
aviation
launched rocket and bomb strikes on the Gaza Strip and on Lebanon. This happened after yesterday's most massive missile attack in recent times on the territory of Israel itself. This strike was carried out, as stated, from the southern part of Lebanon. Prior to this, the Israeli security forces held a tough action in the Al-Aqsa mosque, calling this action (using stun grenades and tear gas) anti-terrorist.
Among the targets of the Israeli strike were objects near the Lebanese city of Tire.
The bombing of the Gaza Strip and Lebanon was condemned by Hamas, pointing out that Israel, by the actions of its own security forces in the Al-Aqsa mosque, in the Muslim holy month of Ramadan, launched a new escalation in the region.
Statement by the head of the UN special mission in Lebanon, Major General Aroldo Lazaro:
We have already held talks with both sides of the conflict. Both Lebanon and Israel say they don't want war. We call on the parties to de-escalate. But for now, we see the opposite. The actions of the last day are extremely dangerous for the entire region.
Acting Lebanese Prime Minister Najib Mikati:
We condemn Israeli missile attacks on Lebanese territory and reject any military escalation. We urge you to look into the situation and identify those who provoked all this.
According to Mikati, official Beirut also rejects all attempts to use Lebanon "to stage actions that threaten regional stability."
Israeli authorities say that 44 rockets were fired at Israeli territory from the Gaza Strip in one night, of which 35 or 36 crossed the border. Of these, 8 were intercepted by the Iron Dome complex. The day before, Israel announced that 34 rockets were fired from Lebanon into its northern territories.
Israeli Defense Ministry spokesman Daniel Hagari:
The Israeli Air Force hit more than ten Hamas targets in Gaza in response to renewed rocket attacks in the south, using about 50 tons of ammunition. Speaking of Lebanon, we believe that the State of Lebanon is responsible for everything that happens on its territory, as well as for the shelling of Israeli territory.