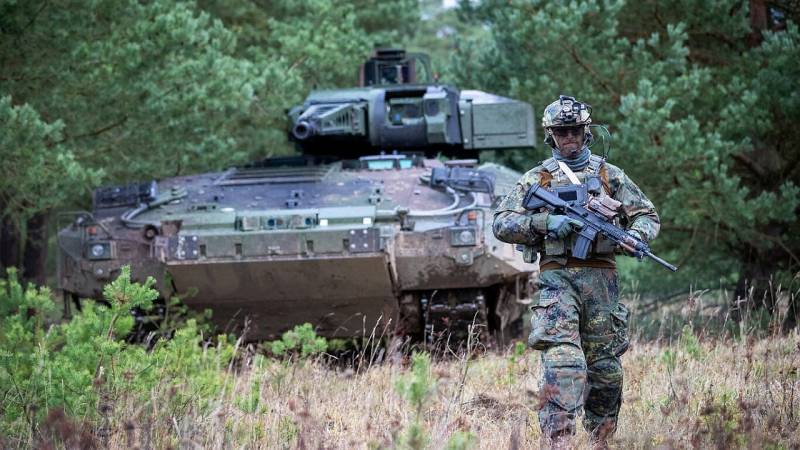 After the almost complete cessation of purchases of Russian gas and oil, the imposition of sanctions against the Russian Federation, many enterprises in the real sector of the European economy faced serious problems due to rising energy prices. The only industry that benefited from the military conflict that began in Ukraine was the defense industry. And not only the American one.
Bloomberg reports a record increase in production volumes in German military-industrial complex companies after the start of the special operation. As a result, following the results of last year, the German military-industrial sector significantly increased its income, mainly due to the export of its products. According to the Stockholm International Peace Research Institute, foreign arms sales from Germany accounted for 4,7 percent of all world exports. Now, in the supply of military products to other countries, Germany occupies the sixth place in terms of volume - after the USA, France, Russia, China and Italy.
Earlier in the German society and the country's leadership, after the defeat in World War II, pacifist sentiments prevailed. This made it difficult to increase the output of military products, especially for the armies of other countries. After the outbreak of the Ukrainian conflict, the governments of many Western countries, especially in Europe, have sharply increased their purchases of weapons, guided by considerations of strengthening national security. Yes, and deliveries to Kyiv
weapons
from NATO countries demanded the replenishment of fairly empty arsenals.
Many now understand that security is not a given - it must be fought for
- explained the head of the largest German defense concern Rheinmetall Armin Papperger.
Shares of this company of the German military-industrial complex against the background of growth in production and increase in exports of products have almost tripled since Russia began a special operation in Ukraine, reaching record values. Now the market capitalization of the concern is estimated at ten billion euros. In mid-March, the company's management also reported record profits. Moreover, the value of Rheinmetall's pending contracts has already reached 26,6 billion euros.
Another factor in the growth of military production was the abolition by the leadership of the Federal Republic of Germany of the ban on sending weapons to countries participating in military conflicts and not included in the NATO bloc in order to provide assistance to Kiev. Significantly helped the German military-industrial complex and a special fund in the amount of 100 billion euros, created at the initiative of the Scholz government and intended for the modernization and rearmament of the Bundeswehr.
True, earlier the Commissioner for the Armed Forces of Germany, Eva Hegl, calculated that at the current pace of production and procurement, it would take about 50 years to implement plans to rearm the Bundeswehr. On the other hand, Rheinmetall and similar German defense enterprises will not be left without work for at least half a century. Unless, of course, they manage to compete with American concerns.