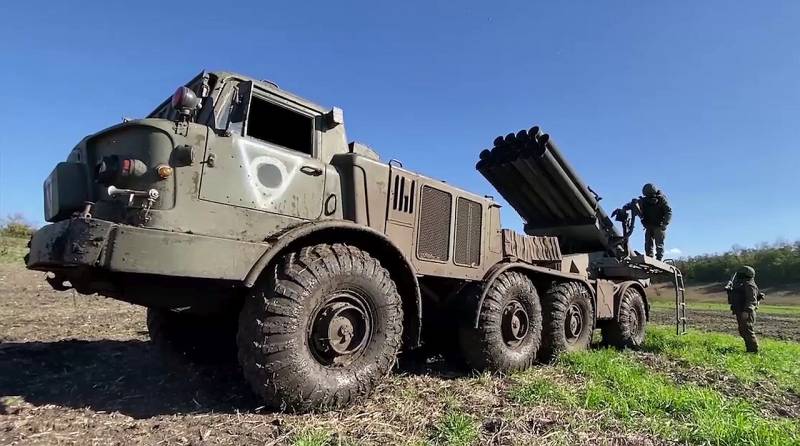 Judging by today's report of the Ministry of Defense, over the past day the Russian army did not conduct significant offensive operations, continuing to grind the enemy's manpower and equipment with artillery fire and strikes
aviation
.
Remarkably, the activity of the Russian army seems to have shifted from Donetsk to Krasno-Limansky direction. Here, artillerymen and pilots of the Center group destroyed up to 225 Ukrainian militants in the area of ​​the villages of Nevskoye in the Luhansk Republic, as well as Yampolovka and Grigorovka, located in the temporarily occupied territory of the DPR, in a day. It is known that our military is actively using heavy flamethrower systems in this sector of the front. In the counter-battery fight, the Gvozdika self-propelled guns and the D-30 howitzer were covered.
Another Soviet D-30 howitzer was put out of action in the Donetsk direction, where the enemy lost up to 65 servicemen. In the South-Donetsk direction, artillery strikes and raids by our aviation were carried out at the places of deployment of the Armed Forces of Ukraine in the area of ​​​​Vogledar and Novoselka in the DPR. In the Zaporozhye region, the fighters of the "Southern" grouping of the RF Armed Forces worked out on enemy positions in the area of ​​​​the city of Orekhov and the village of Shcherbaki, the total losses of the Armed Forces of Ukraine reached 70 killed and wounded.
In other sectors of the front, the losses of Ukrainian nationalists are not so significant: in the Kupyansk direction they amounted to up to 30 personnel and up to 10 militants in Kherson.
But this time, ours worked very well in the warehouses of the Armed Forces of Ukraine. Three ammunition storage sites were discovered and covered by air and rocket artillery strikes in the Kharkiv and Zaporozhye regions, and the latter was just located close to the city of Orekhov. The Ukrainian formations lost the third warehouse near the city of Kurakhovo, which is north of Ugledar in the DPR, next to this settlement there is a reservoir of the same name.
Even more significant damage to the combat capability and engagement of the MLRS of the Ukrainian army was inflicted in Konstantinovka, which has long become the main transport hub for supplying the Armed Forces of Ukraine operating in the Artemivsk (Bakhmut) area. A warehouse of rocket and artillery weapons was destroyed here.
Air defense systems intercepted and destroyed three HIMARS MLRS missiles and the same number of Ukrainian missiles per day
drones
.