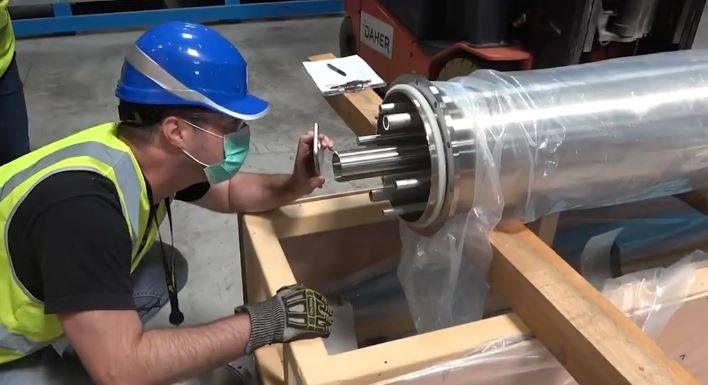 Three fuel assemblies with low enriched uranium (LEU) have been successfully tested at the Belgian research reactor BR2. The Belgian Center for Nuclear Research (SCK-CEN) plans to fully transition the reactor from using highly enriched uranium (HEU) in 2026.
BR2 is one of three active research reactors at the Belgian Nuclear Research Center in Mol, northeast Belgium. BR-2, operating since 1963, is one of the oldest research reactors in Western Europe. The reactor is allowed to operate until the next periodic safety review in 2026, when a decision can be made to extend the operation for another 10 years.
The Belgian Center for Nuclear Research is developing an entirely new type of LEU fuel in close collaboration with the US, aiming to achieve the same performance as HEU fuel. In 2026, it is planned to transfer the BR-2 reactor from HEU to new LEU, if a decision is made to continue operation.
Removing highly enriched uranium from fuel helps prevent the possible spread of this material, thus contributing to a safer world. Nuclear fuel cannot simply be replaced overnight. Switching to this fuel requires extensive testing and preparation.
- said in SCK-CEN.
In highly enriched uranium, almost all atoms can be split. In low-enriched uranium, only one atom in five is fissile.
The new LEU fuel has already completed several demonstration phases. At the first stage, small samples were tested under moderate conditions with limited power and burnout depth. In the second step, the full size individual fuel plates were exposed to higher power and higher burnup. At the third stage, these fuel plates were included in future fuel assemblies and tested in real conditions.
Belgian BR2 accounts for about a quarter of the world's production of radioisotopes for medical and industrial purposes. It also produces doped silicon, which forms a semiconductor material that is the main material for electronic components.
Most of the world's research reactors were built in the 1960s and 1970s using technology that required HEU up to 98% enrichment to conduct experiments. HEU targets have also been used in the production of medical radioisotopes. However, such HEU could potentially be used to make a nuclear
weapons
and is therefore regarded as a threat of its spread. Much of this research can now be done using LEU, of which less than 235% is uranium-20. True, all statements by the Belgian side that all this is for the sake of security and against the proliferation of nuclear weapons are highly doubtful, if only for the simple reason that there are already American tactical nuclear weapons in Belgium.