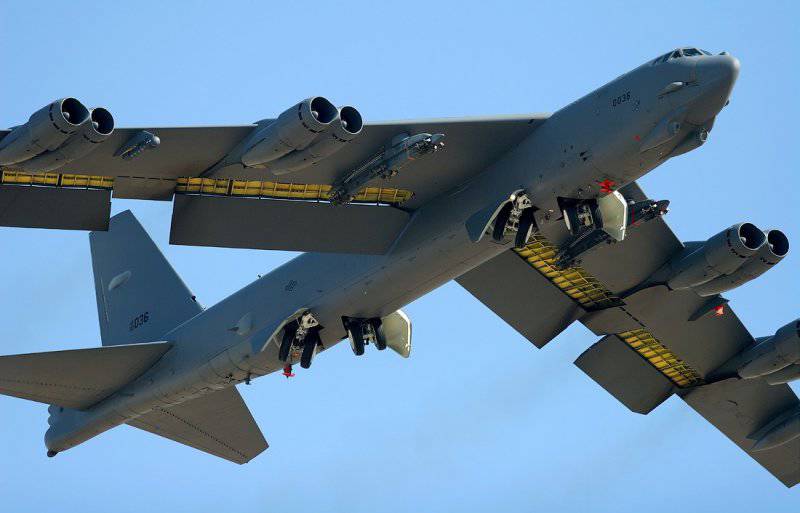 The US Air Force continues to modernize its 50-year-old B-52 bombers. Last modernization will allow everyone in carry-52 130 more than one hundred and ten-kilogram bomblets (SDB-Small Diameter Bomb, also known as GBU-39 / B). Six years ago, the swivel drum was changed to B-52, so it was able to carry 32 small caliber bombs instead of 15 large bombs.
SDB was originally developed as a smart bomb. It has a more efficient warhead design and guidance system. Its shape is more like a rocket than a bomb (it is about two meters in length and 190 mm in diameter). A reduced amount of explosive in SDB leads to a decrease in the number of civilian casualties. Friendly forces may be closer to the target when using SDB. While the use of 500 caliber bombs, 1000 and 2000 pounds causes a spectacular effect, sometimes it is not necessary. Infantry prefers smaller GPS-targeted bombs. Because of this, the 500 pound JDAM was quickly developed and adopted. But it was not enough small when conducting combat operations in urban buildings. SDB is equipped only with 17 kilograms of explosives compared to 127 kilograms in a bomb X-NUMX caliber pounds. In principle, the SDB does not have a rocket engine, but is able to plan for a target located at a great distance. The lack of a motor makes SDB even more compact. Small wings allow SDB to be planned for distances up to 500-70 km (when dropped from a great height). SDB is also provided with a solid cap, allowing nearly three meters break hard rock or concrete, and its warhead causes less collateral damage than conventional bomb where the explosive is contained in a conventional metal housing. Thus, SDB is the next generation of smart bombs. The more compact SDB design allows it to be more transportable. F-80 / 15 / 16 aircraft can carry 18 or more SDB bombs. SDB is placed on a special suspension that can accommodate four such bombs. Usually on such a bomber suspension is placed one large 24-, 500- or 1000-pound bomb. However, such more bombs are rarely necessary in modern combat situations.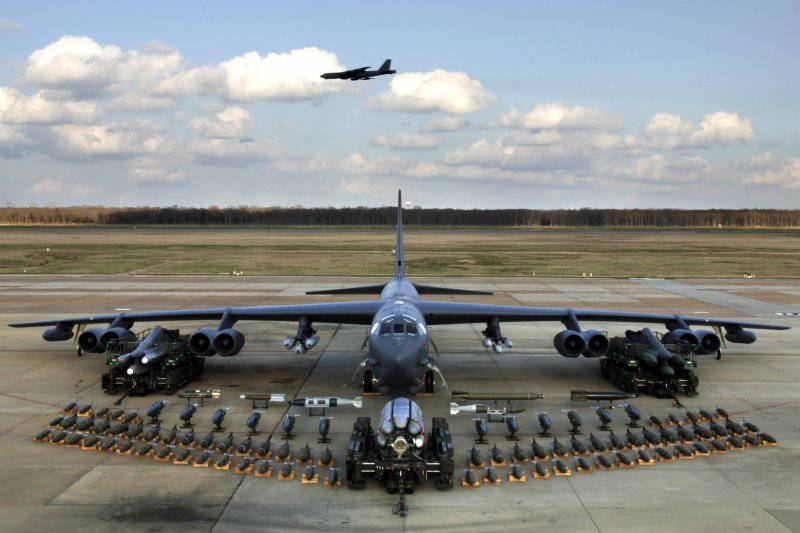 The new bombs make the B-52 B-240 most reliable and most reliable air force truck even more effective. With a maximum take-off weight in tonnes 250-0.78 BUFF (Big Ugly Fat Fellow, large and ugly fat) is a large aircraft, intended for cheap and efficient transportation of charges. Last year, the combat readiness ratio of these bombers was 52. Despite its age, the B-XNUMX is equipped with modern electronics and equipment, including flat screens. Looking more closely, you can see behind all this fifty-year-old metal.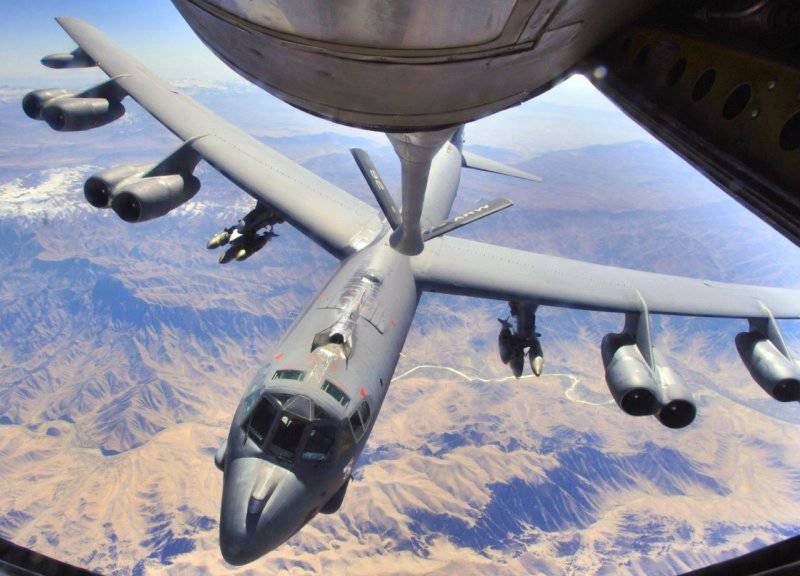 B-52 is the cheapest to operate a heavy bomber of the US Air Force and even one such aircraft is able to cover the entire territory of Afghanistan. B-52 bombers on a rotational basis are based at the Air Force base on Diego Garcia Island in the Indian Ocean and from there they support operations in Iraq and Afghanistan. At the end of 2001, ten B-52s dropped a third of all bombs used in Afghanistan. This is a remarkable figure for the 60-year-old aircraft. The B-52 also has a lower crash rate than the B-1 and B-2 bomber. Compared to supersonic B-1 and high-tech B-2, B-52 is just a flying truck. Thus, despite its advanced age, B-52 was the cheapest, safest and most reliable way to deliver smart bombs in Afghanistan.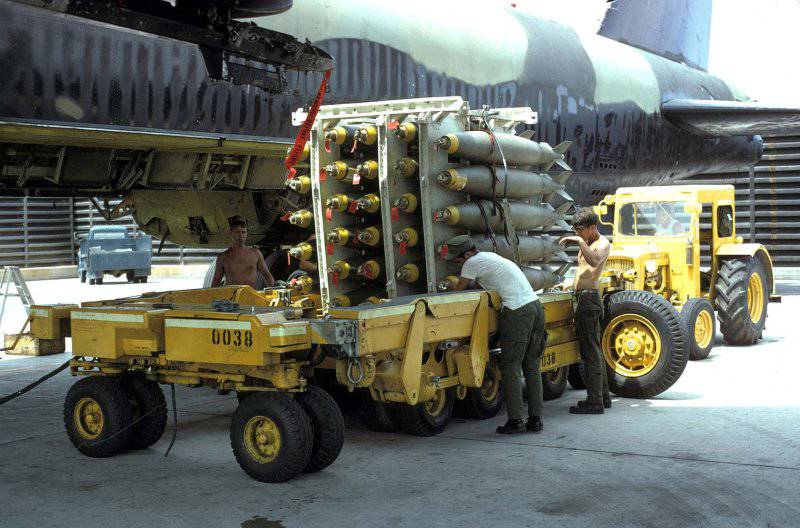 In Afghanistan, with ten 909-kilogram JDAM (steerable GPS) bombs or with a large number of bombs smaller caliber board, B-52 able to be over the area of ​​combat actions for several hours waiting coordinate purposes of special forces from the ground or from advanced gunners Air Force. JDAM accuracy (in more than 90 percent of cases) is within 16 meters from a given coordinate. Moreover, most bombs hit targets within ten minutes of the request.
The B-52 was the main heavy bomber throughout most of the Cold War (1947-91). The prototype B-52 made its first flight in the 1952 year. Extreme B-52H was built in 1962 year. B-52 has seen a lot in Vietnam, the Persian Gulf, the Balkans and Afghanistan. Its crew consists of five people (commander, co-pilot, radar operator, navigator and EW operator). Prior to 1990, there was also a shooter aft 20-mm gun. Automation allows you to further reduce the size of the crew. The crew of the B-1 era of 1970-s consists of four people, and the crew of the B-2 of the era of 1980-s consists of only two people. The only flying modification of the B-52 are the B-52H models, which have changed significantly since the last time they rolled off the conveyor in the 1962 year.
The real replacement of the B-52 was never built, for the reason that no one could have foreseen the development of such precise smart bombs and the ability of the US Air Force to destroy most enemy air defenses. In fact, even when confronted with powerful enemy defenses, B-52 was able to complete its mission. During the twelve days of Linebacker II operations in North Vietnam in 1972-the year of the fire of Soviet missiles SAM-2 15 bombers were lost in-52. The 150 B-52 bombers stationed at the Guam airbase performed 729 operations, with losses of up to two percent. However, given the number of sorties, about ten percent of the B-52 was lost. Of the 92 crew members of the downed aircraft were killed 33.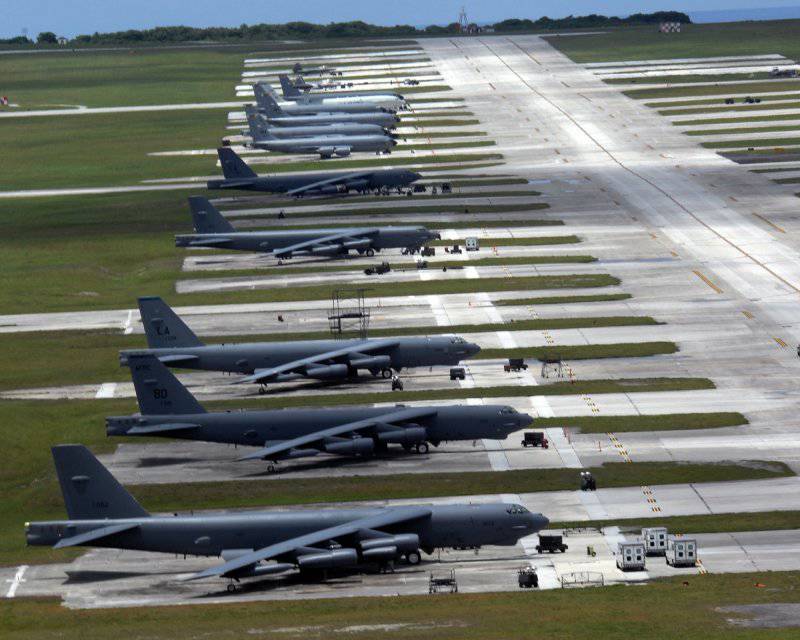 After the Vietnam War, B-52 received several generations of new electronic warfare tools based on the experience gained during Operation Linebacker II. Nevertheless, there was never enough money to keep B-52 up to date, especially with regard to the equipment necessary to use some new bombs. As a result, some B-52s received the equipment necessary to use the JDAM bombs just before the war in Afghanistan in 2001. B-1 was upgraded to use JDAM to B-1, because B-52 is considered more reliable. In any case, the upgrade was cheap - laying cable from the control station
weapons
to bombs, thus, GPS data on the location of the target can be changed in flight. The 50-year-old B-52 soon became a favorite weapon in Afghanistan, able to circle for several hours and, on demand, drop a single-colored JDAM bomb.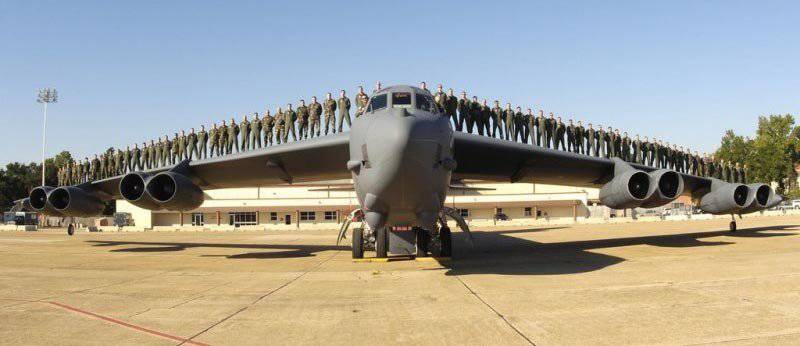 Currently, the US Air Force capable of destroying high-altitude anti-aircraft missiles, and then apply the in-52 from high altitudes to avoid defeat low-high-altitude anti-aircraft guns and mobile anti-aircraft missile systems. The B-1 and B-2 bombers were created to deal with even more intense air defense. However, with the collapse of the Soviet Union in 1991, no one else has such a system. Perhaps in the future, China will be able to build another such formidable air defense system. Currently, due to the lack of a first-class air defense system capable of stopping it, the B-52 can still break into the war zone, even for the delivery of nuclear weapons.