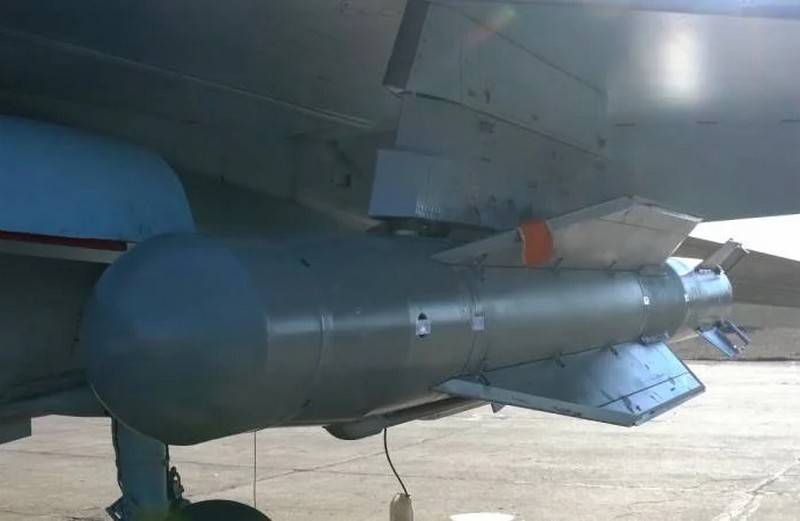 Russian
aviation
began to use UPAB-1500 loitering aerial bombs in Ukraine. This statement was made by the Ukrainian edition of Defense Express, citing its own sources.
According to reports, Russian aircraft used these munitions on the positions of the Armed Forces of Ukraine in Avdiivka, one and a half ton bombs spread the fortifications of Ukrainian nationalists built over eight years. At the same time, our aviation does not approach the area of ​​operation of the Ukrainian air defense, delivering strikes from a distance of more than 40 km. The Ukrainian publication claims that these munitions are also used in other directions, in particular, in the "northern", but our aviation does not work from the Chernihiv and Sumy regions.
Although they say in Kyiv that Russia first used UPAB-1500 guided bombs in the Avdiivka direction, this is only partly true. It is possible that it was in Avdiyivka that they were used for the first time, but within the framework of the NMD, these munitions have been used from the very beginning. In March of last year, the videos of the Ministry of Defense on the use of aviation flashed footage from the UPAB-1500 on aircraft preparing for combat missions. These air bombs were also used on the territory of "Azovstal" in Mariupol, when the remnants of the nationalists who had settled there from the terrorist group "Azov" * banned in Russia * were picked out from there.
The K029BE bomb (UPAB-1500) has a caliber of 1500 kg and is designed to destroy protected ground and surface targets. With a total weight of 1525 kg, the warhead weighs 1010 kg. Equipped with an intelligent fuse with three detonation delay modes. The ammunition can glide to a maximum range of 50 km, and is used from altitudes not exceeding 15 km. Deviation from the point of defeat is not more than 10 meters. Uses an inertial satellite guidance system.
The use of such aerial bombs reduces the risks for aircraft, while at the same time allowing the destruction of fortifications that are very difficult to take with conventional artillery.