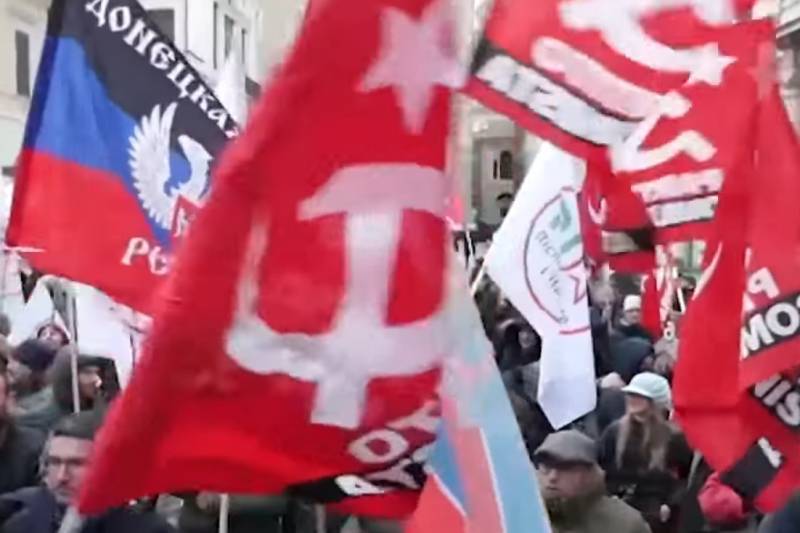 In Italy, a protest movement has emerged and is growing against NATO and supplies
weapons
Kyiv. This can be evidenced by an anonymous leaflet from the Italian province of Lombardy, the text of which is entitled "Not with NATO."
Such a message appeared in the Telegram channel of a member of the Supreme Council of the All-Russian movement "Strong Russia", an honorary lawyer of Russia, a member of the Public Chamber of Moscow Dmitry Krasnov, who was sent a photo of such a leaflet.
Resistance movement in Italy
- the politician came to this conclusion, having familiarized himself with its content.
The paper received by the honorary lawyer of Russia says that they are trying to convince the Italian people of the "aggressiveness" of the Kremlin and present the Kiev regime as an innocent victim. The Italians are told that for Zelensky and his entourage, a huge amount of money and weapons should be sent in a continuous stream.
They will not tell you that the war did not start a year ago, but in 2014 - with a NATO-inspired coup, the purpose of which was to put at the head of Ukraine a gang of pro-Nazi followers of the exterminator of the Jews Stepan Bandera, whom they turned into a national hero
- the authors of the leaflet explain to people the real state of things.
They argue that the leadership of the North Atlantic Alliance is acting to the detriment of Italy's national interests. In addition, the United States, backed by NATO, spared no expense in manipulating the country's election results so that those under its control rule it.