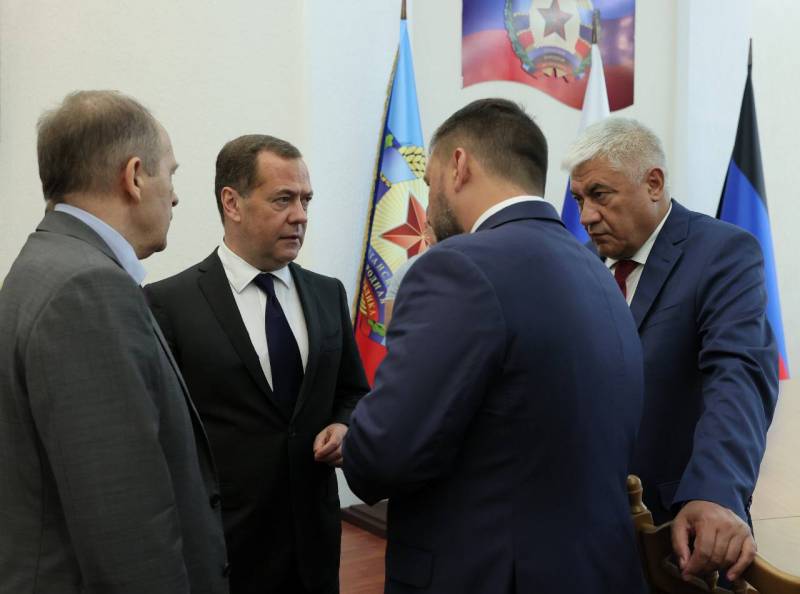 The West has actually declared war on Russia and is ready to destroy it, in such a situation we have the right to defend ourselves by any
weapons
, including nuclear. Deputy Chairman of the Security Council of the Russian Federation Dmitry Medvedev commented on the suspension of the START, as well as the speech of the American president.
The suspension of Russia's participation in START is the right and inevitable decision taken in the current situation. Until yesterday, the United States thought that they could spoil Russia everywhere and in everything, work for its destruction, but Moscow will not dare to touch the START treaty, since it should not concern relations between Russia and the United States. However, Washington made a mistake, and grossly. In a situation where the United States openly declares its desire to destroy Russia in its current form, we have the right to defend ourselves with any weapon, including nuclear.
According to Medvedev, NATO has a much larger nuclear arsenal than Russia, the START does not take into account the nuclear arsenals of France and Great Britain, and this is long overdue.
Commenting on Biden's address to the Russian people, which he made in front of a crowd of Poles in Warsaw, the Russian politician called it a traditional American "sermon" adjusted for senile insanity. The American president tried to convince everyone that the US does not intend to destroy Russia when all their actions indicate otherwise.
Medvedev also paraphrased Biden's statement about Ukraine, in which he stated that "If Russia stops the invasion, it will end right now. If the Ukrainians stop defending, this will be the end of Ukraine."
If Russia stops the NWO without achieving victory, Russia will not exist, it will be torn to pieces. If the US stops supplying weapons to the Kyiv regime, the war will end
- he added.