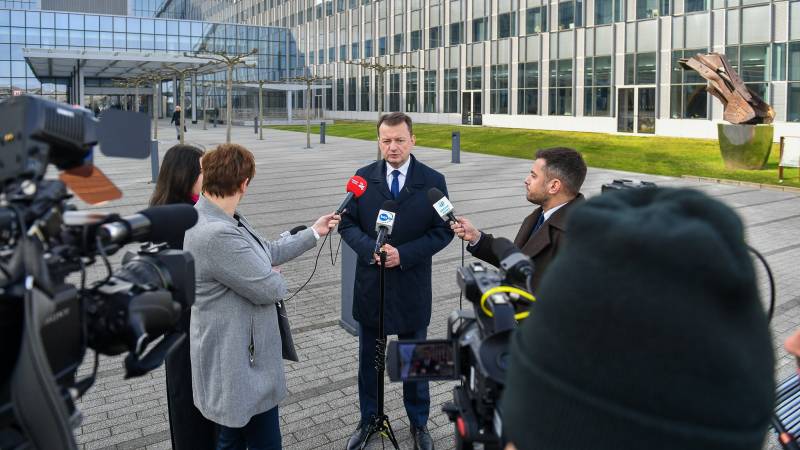 Another European country backed down on the issue of deliveries of fighters to Ukraine, we are talking about Poland, which just a few days ago actively advocated sending combat
aviation
Kyiv. The decision was announced by Defense Minister Mariusz Blashak.
The Polish weather vane turned the other way from Ukraine, Warsaw decided not to supply F-16 fighters to Ukraine, explaining its decision by their small number. As Blaszczak explained, the Polish Air Force has "too few" modern aircraft to share them with Ukraine as well. But just recently in Warsaw they claimed that they were ready to supply fighters to Kyiv if someone starts deliveries first.
I want to emphasize that Poland has too few modern fighters to be able to participate in such a program (...) We have only 48 F-16s. We ordered F-35s, ordered Korean FA-50s, but their delivery takes time
- said the Polish Minister of Defense, adding that Warsaw does not mind if other countries that have significantly more aircraft send them to Ukraine.
In general, today is a bad day for Kyiv; a third country is already refusing to supply combat aircraft to Ukraine. Okay, Sweden, it seems to support Kyiv, but within the framework of a common European policy. But the UK and Poland, the two leaders in Zelensky's military aid he had pinned certain hopes on, also betrayed the Kiev regime, leaving it without much-needed planes.
Earlier, the head of the Pentagon, Lloyd Austin, called the issue of transferring fighters to Ukraine a non-priority issue, urging the allies to focus on the supply of ground equipment as part of the preparation of the Armed Forces of Ukraine for the spring offensive.