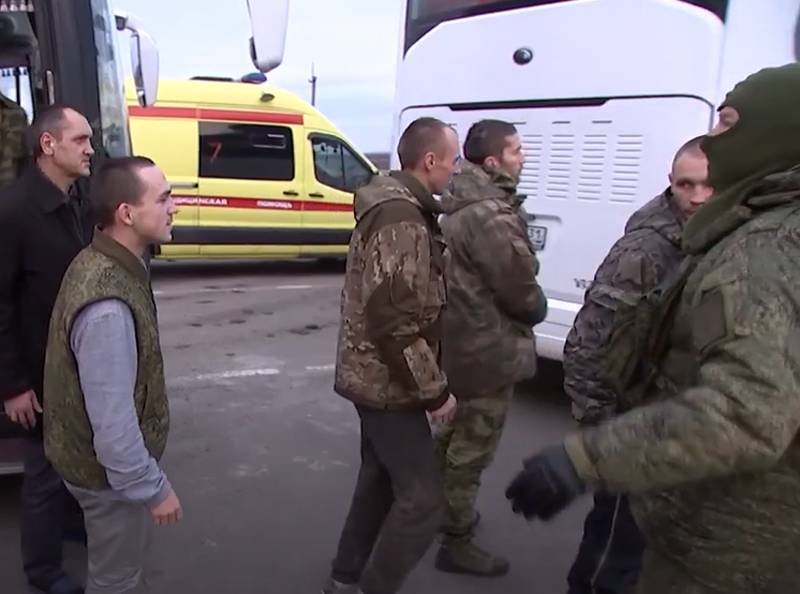 Until recently, Russian officials, in contrast to the Kyiv regime, avoided the topic of Russian prisoners of war and their exchange, and the media were mainly busy covering individual cases of enemy surrender and demonstrating the testimony of captured militants. Now the approach has changed: exchanges are commented on at the official level, while the press is actively broadcasting footage of the return of the released fighters. However, the circumstances of their capture are practically not disclosed.
Military correspondents from the TG channels "Rybar" and "Military Chronicle" tried to fill this gap. As indicated in their analysis, approximately 80% of the fighters who were captured were volunteers (35%) and called up from the reserve (45%). Among those mobilized, these were people from the people's republics of Donbass, since the end of September - from other subjects of the Russian Federation.
At the same time, regular military personnel find themselves in the hands of the enemy much less frequently and are mostly incapacitated: 80% of the considered category of fighters are among the wounded.
Among the reasons for the surrender is the lack of regular officers. In units formed from mobilized, reservists become commanders, half of whom do not have the skills to manage personnel. In battle, they are unable to assess the situation and give the necessary orders, due to the lack of which the soldiers become a disorganized mass, unable to resist.
Another reason is the ignorance in some cases of personnel about the combat situation. The servicemen could not only not have information about the location of neighboring units, but even not know the combat mission assigned to them. Being disoriented, they fled from the battlefield at the first onslaught of the enemy and easily found themselves captured.
The third reason is the lack of strong-willed determination in some fighters. Problems with motivation concern mainly the part of the volunteers who decided to earn extra money at the front, and those mobilized, who did not understand the need for their participation in the conflict and its essence. Indicates cases when fighters, having the opportunity to hit the enemy, did not use
weapons
because of fear.
Of course, conclusions should be drawn from this analysis made by the military correspondents in order to further reduce the risk of our soldiers being captured by the enemy.