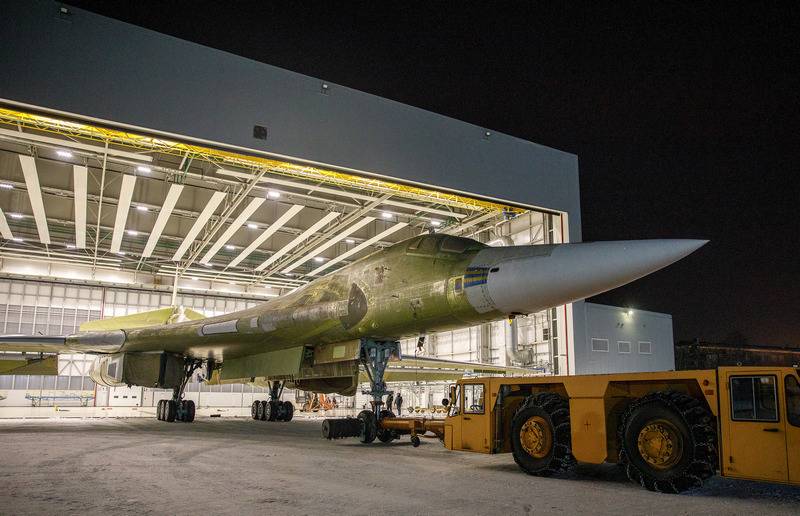 Two Russian strategic missile carriers Tu-160M ​​entered the flight test phase at once. The first mass-produced Tu-160M ​​made from scratch and a combat missile carrier, which underwent a deep modernization to the Tu-160M ​​level, were transferred to the flight test station of the Kazan Aviation Plant. This was reported by the press service of the United Aircraft Corporation.
Two Russian strategists will undergo the necessary tests of systems and engines, as well as on-board equipment. After the end of the tests, they will return to the plant for painting, after which they will be transferred to the Far
aviation
VKS RF. The Tu-160M ​​combatant, which has undergone modernization, will return to its native one, but where the new aircraft, built as part of the reproduction program, will go, is still unknown.
As previously reported, a total of 160 Tu-15 combat missile carriers of the Russian Aerospace Forces should be upgraded to the Tu-160M ​​level, and ten new Tu-2027M ​​strategists should be built by 160 with deliveries starting in 2023. The KLA promises to increase the production of missile carriers.
The Tu-160 is the most important part of Russia's nuclear triad, so the modernization of combat vehicles and the resumption of production of these strategic bombers is our priority task. The updated missile carriers surpass their predecessors in their characteristics, they received new on-board radio-electronic equipment, NK-32-02 engines and other systems
- said the head of Rostec Sergey Chemezov.
Deeply modernized Tu-160M ​​and new-built aircraft receive new flight and navigation equipment, an on-board communications system, a control system, a radar station, an electronic countermeasures complex, new NK-32-02 engines (series 2), the production of which has been restored in Samara (JSC " UEC-Kuznetsov), as well as new weapons.