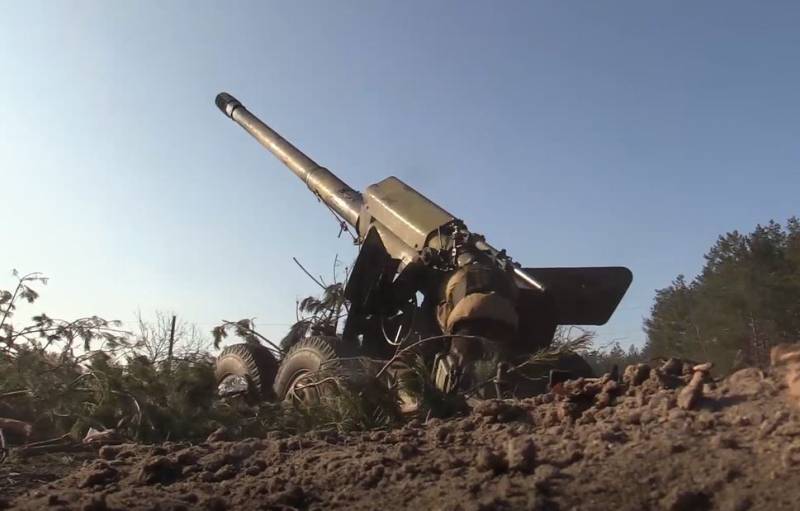 Fierce fighting continues near Artemovsk and Soledar, and the enemy is also concentrating reserves on the Kupyanskoye and Krasno-Limanskoye directions. The destruction of the artillery of the Armed Forces of Ukraine continues as part of the counter-battery fight. This is stated in the new report of the Ministry of Defense.
Over the past day, there have been no massive missile strikes deep into the territory of Ukraine, local battles are underway, and the destruction of enemy artillery continues. So, in the Krasnogorovka area, as part of a counter-battery fight, two M777 howitzers and one FH-70, firing at Donetsk, were spotted in firing positions and destroyed. In the Seversk region, three Grad MLRS installations were sent for scrap, and in the Petropavlovka, Berestovoye and Chernobaevka regions, three Msta-B howitzers were destroyed. On this, ours did not calm down and destroyed two more D-20 and D-30 howitzers in the areas of Georgievka and Marinka.
As always, there are no details from the Ministry of Defense, but on the eve it was reported that Lancet kamikaze drones and Krasnopol high-precision projectiles were used as part of the counter-battery fight.
Now for the battles in the main directions: on Kupyansky in the areas of Sinkovka, Timkovka and Kislovka with artillery strikes and
aviation
more than 30 Ukrainian servicemen, three armored combat vehicles and two vehicles were destroyed. On Krasno-Limansky, four company tactical groups of the 25th airborne, 80th and 95th airborne assault brigades of the Armed Forces of Ukraine, as well as the 103rd territorial defense brigade, fell under the blow of Russian troops. Enemy losses amounted to more than 170 personnel, two armored personnel carriers and four pickup trucks.
On Donetsk, it is Artemovskoye, ours continue to put pressure, the enemy resists. Fierce battles are going on for Experienced and Kleshcheevka, a lot of militants from the National Battalion, who themselves do not retreat, and do not give others. In Experienced foreign mercenaries are also very numerous. But the losses of the Ukrainian side are still very large, ours prefer to work with artillery and only then move forward.
In Yuzhno-Donetsk, in the Ugledar region, units of the 72nd mechanized brigade of the Armed Forces of Ukraine, as well as a large group of foreign mercenaries, were hit. More than 70 Ukrainian servicemen and mercenaries, five armored combat vehicles and two pickup trucks were destroyed. The enemy DRG was destroyed in the Vladimirovka area.