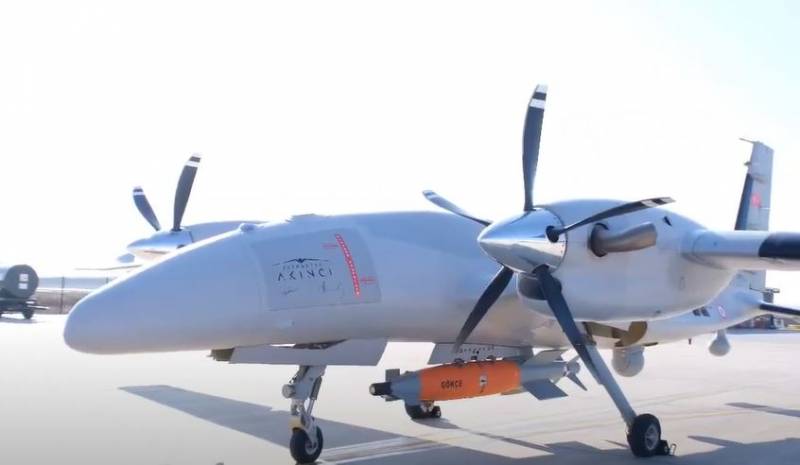 Turkey continues to actively develop weapons for unmanned aerial vehicles
aviation
and integrate them into drone weapon systems. The Turkish company Tubitak SAGE has developed the GOKCE guidance system, somewhat reminiscent of the American Joint Direct Attack Munition (JDAM) guidance kit.
The new system is a set of wings and a tail block mounted on conventional free-fall bombs. The kit also includes a laser homing head mounted in front of the ammunition. All this together allows the bomb to maneuver and hit targets more accurately.
The GOKCE complex was tested on the Turkish attack drone Akinci. During the tests, the UAV hit the target with a MK-83 bomb weighing approximately 455 kg, on which the GOKCE system was installed. Reportedly, the deviation of the bomb from the target was "insignificant". The drone illuminated the target with a laser from a height of about 6 km.
In the summer, a laser-guided missile, previously used only by manned aircraft, was introduced into the Akinci arsenal. We are talking about the rocket LGK-82. Akinci also received the SOM (Stand-off Mühimmat Seyir Füzesi) cruise missile.
Akıncı belongs to the class of "heavy" drones. The drone can fly in a fully automatic mode, land and take off independently. Maximum speed - 360 km / h, cruising - 240 km / h. The drone is equipped with an AFAR radar, six computers with artificial intelligence, a guidance system and six weapon suspension points with a total weight of 1350 kilograms.