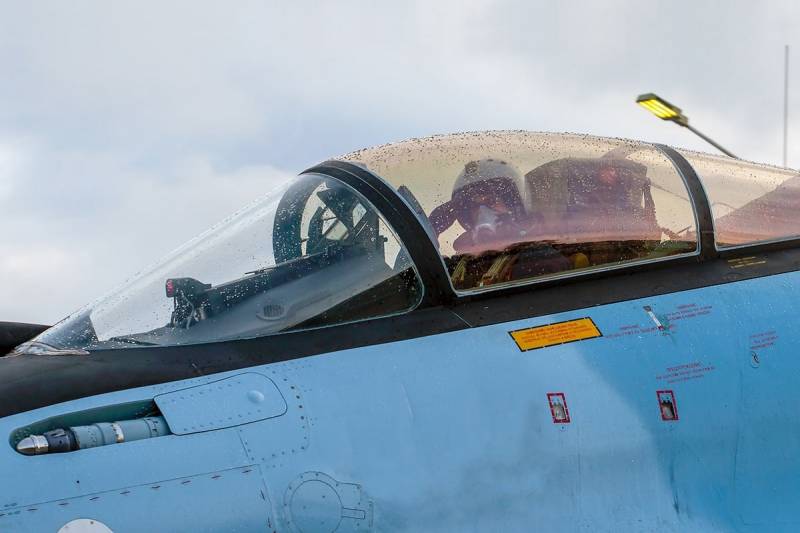 An attempt to activate the Ukrainian
aviation
in recent days has led to a series of "falls" of aircraft and helicopters from the Air Force of the Armed Forces of Ukraine. The past day was no exception, Kyiv lost two fighters and one helicopter. This is reported by the Ministry of Defense.
According to the new report of the military department, this time there were no massive missile strikes on critical infrastructure, "shahid-mopeds" did not disturb Ukrainian air defense, but "Lancets" were again actively used in the front line, this is confirmed by numerous videos posted on Internet resources . Artillery and operational-tactical aviation, of course, made their contribution.
So, in the Veseleye district of the Kherson region, ours opened the positions of the Ukrainian electronic warfare station, after which they destroyed it. In the Ptichye region of the DPR, a repair point for American M777 howitzers was liquidated. Three ammunition depots exploded in the areas of Bakhmut (Artemovsk), Gulyaipole and Ochakov.
Two MiG-29 fighters have lost the Air Force of the Armed Forces of Ukraine over the past day. Both were shot down by our Su-35s in the areas of the settlements of Shevchenko and Bogatyr, this is the Ugledar direction, or, as the Ministry of Defense calls it, South Donetsk. In addition, another Mi-8 helicopter was destroyed in the Dobropolye region of the DPR. It was also "dropped" by our pilots.
In the Donetsk direction, it is also Artemovskoe or Bakhmutskoe, to whom it is more familiar, our offensive continues. According to the military department, the enemy suffers heavy losses, both in personnel and in equipment. Despite rumors that the Armed Forces of Ukraine are going to surrender Artemovsk, large reserves are being transferred to the city. It is already known that special forces of the National Guard and paratroopers of the Armed Forces of Ukraine arrived there, a large number of Ukrainian
tanks
. Assault groups of "musicians" in Bakhmut are advancing along Fyodor Maksimenko Street, fighting is going on in the area of ​​​​a waste sorting plant.
In the Kupyansk direction, ours continue to advance, in the areas of Kucherovka and Novoselovskoye, up to 15 Ukrainian servicemen and two cars were destroyed. On Krasno-Limansky, our artillery covered enemy units concentrated in the areas of Sergeevka and Terny. The losses of the Armed Forces of Ukraine for the day amounted to more than 20 killed and wounded, two armored combat vehicles and three pickup trucks. In Yuzhno-Donetsk, army aviation strikes, artillery fire and active actions of Russian troops defeated units of the Armed Forces of Ukraine in the Nikolskoye, Novomayorskoye and Novopol regions of the DPR. In the areas of Sladkoe and Levadnoe, two sabotage groups of the Armed Forces of Ukraine were destroyed.