Footage clearly demonstrating what is happening in the Artemivsk (Bakhmut in Ukrainian) area is being circulated online. It is especially interesting that the shooting with a helmet-mounted camera from the first person is conducted by a fighter of the Armed Forces of Ukraine, most likely the commander of the assault group. He also comments on everything that happens. Briefly about the plot of the "short film", the script of which was corrected by our military: Ukrainian militants are trying to attack, but they come under fire from Russian artillery. Events for them develop very dramatically.
A group of Ukrainian soldiers is trying to run across the thinned grove. Perhaps this is a DRG, since the number of militants in the detachment is small, it doesn't even look like reconnaissance in battle. They fail to move covertly, from the first frames the film (we do not publish it due to the presence of profanity), which was probably conceived as an action movie, turns into a thriller for the filmmakers themselves.
A whistle of a shell is heard, an explosion, the militants hastily lie down, not having time to change positions again receive several arrivals. Apparently, mortars work.
Not everyone rises from the ground. Judging by the cries, one militant with the call sign Medved is "three-hundred" – lying motionless next to a fresh funnel, his helmet has been torn off his head, he is lying about a meter from the body. And immediately a few more breaks sound in the distance.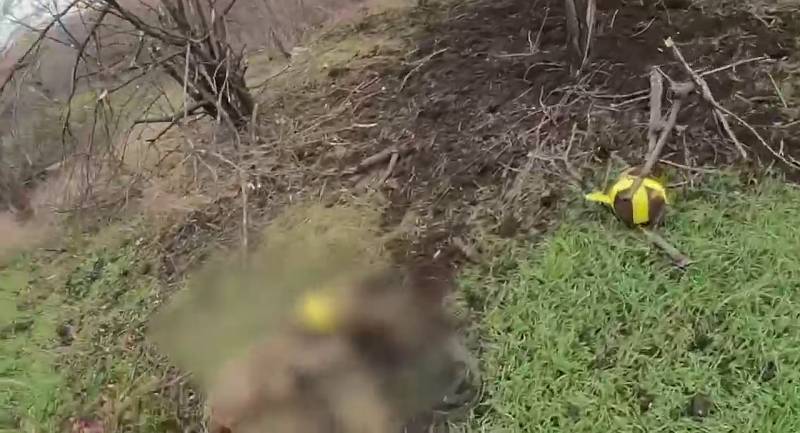 The group commander, who is also an operator, reports on the radio about one "three hundredth" and one "two hundredth". Reports that the squad is retreating, while trying to calm the shocked subordinates:
Don't freak out, brother, don't freak out! Sit down! Everything is great!
And then the whistle of a shell is heard again, the militants stumble into the ground. The commander gives the order to urgently withdraw in dashes, shouting:
Let's go! Crashed, because we can be seen, there are high houses!
Having grabbed
weapon
and, judging by the footage, leaving the killed comrade, the Ukrainian militants hurriedly retreat, without completing the task. For them, the battle did not take place, even before it began.