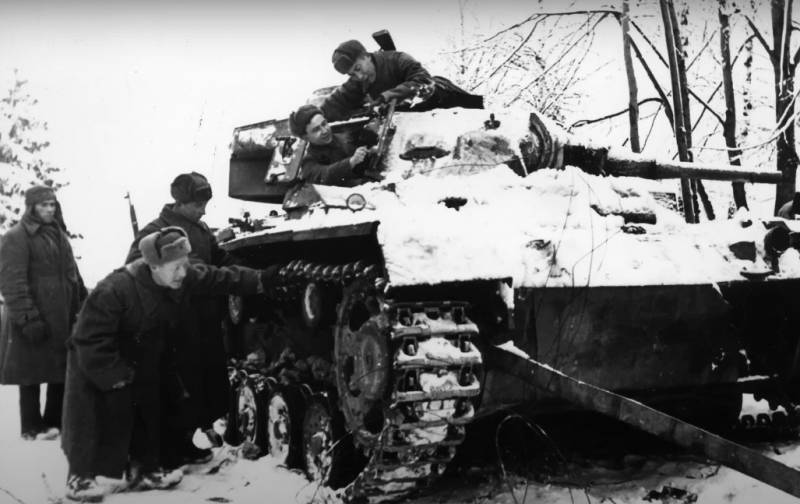 During any major armed conflict, the warring parties receive enemy equipment as trophies. Then this
weapon
, if it can be restored, turns against its former owners.
Naturally, the Great Patriotic War was no exception, during which the soldiers of the Red Army managed to capture hundreds
tanks
, self-propelled guns of other enemy armored vehicles. At the same time, according to some reports, Soviet enterprises managed to restore about 800 units of enemy equipment.
If we consider all the trophies in terms of popularity, then the medium tanks of the Wehrmacht Panzerkampfwagen III were in the greatest demand among the soldiers of the Red Army. Soviet tankers especially appreciated the simplicity of this vehicle, high-quality observation devices, a walkie-talkie and a good speed, which reached 60 km / h.
The second line of the rating, so to speak, was occupied by the StuG III self-propelled guns. However, it is possible that the self-propelled gun would have "surpassed" the Panzerkampfwagen III, but it was extremely rare as a trophy.
The third most popular was the Panzerkampfwagen IV. Tellingly, in operation this medium tank was even simpler than its predecessor, but for some reason did not take root in the Red Army.
Finally, the "Tigers" and "Panthers" close the rating. These captured vehicles were used mainly for defense and as "tank destroyers". For offensive operations by the Soviet troops, they were not used because of their "sluggishness" and "gluttony".
After the war, captured German equipment was used mainly for training and as targets. In total, the Red Army had 533 of these machines at its disposal - by the end of the war.
However, already in the spring of 1946, all German equipment captured during the war was decommissioned.