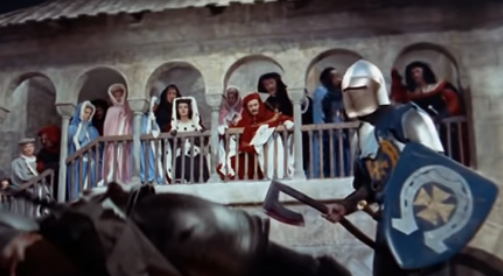 Duel of Rotger and Sbyshka on axes. Frame from the movie "The Crusaders" (1960)
"Axe, axe, sit like a thief
and don't look out into the yard"
A child's saying during a game of hide-and-seek in the 60s

Rothger recoiled in horror and leaned back,
and at the same moment an ax flashed before his eyes,
and the blade fell with lightning speed on his right shoulder.
reached the audience's ears
only a heartbreaking cry: "Jesus! .."
Rotger took another step back
and crashed down to the ground.
Henryk Sienkiewicz "The Crusaders"
History weapons.
In the previous article "Just ... "something heavy on a stick", from the very beginning it was about the book by J. Roni Sr. "Fight for Fire" and how primitive fire hunters fought with clubs and clubs. But it was also indicated there that they already had stone axes, which, however, were not described there.
What an ordinary ax looks like, I, of course, already knew then. My grandfather chopped wood for them, and at first I thought that only such axes existed. I saw other people have axes of a completely different shape - I was very surprised. But it turned out that my case had not an ax, but a cleaver, and this is a big difference.
Then I learned that stone axes could be of several types, and even drilled (I saw them in a museum and was very surprised at how ancient people could drill through a stone). Well, then already in 1961 I had a chance to watch a color, wide-screen film "The Crusaders" based on the novel by Henryk Sienkiewicz, and I really wanted to make myself exactly the same ax as was in that movie.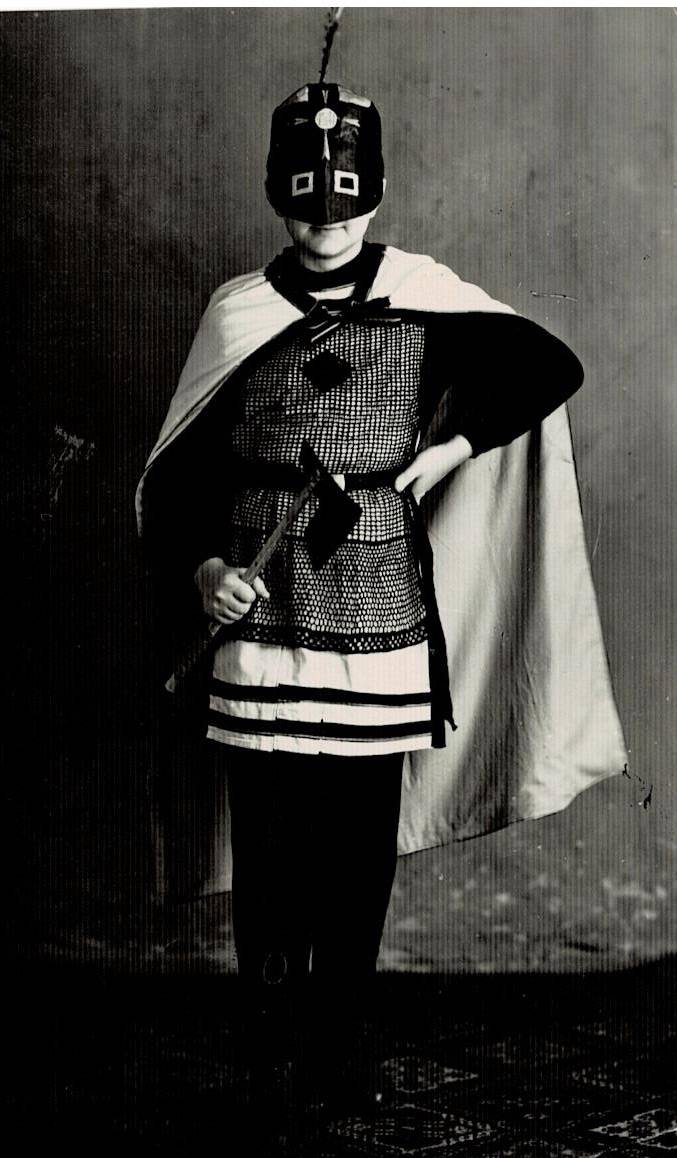 "Young Knight" January 1, 1966. Surprisingly, I seemed to have a premonition of my fate and that I would have to flaunt in armor and ... write about axes with an L-shaped blade ...
But a few more years passed before, with the help of my grandmother, I managed to build myself a "knight's suit" with a shield, helmet and an ax of the shape I liked. Well, then, after 50 years, I became interested in this topic and learned a lot of interesting things.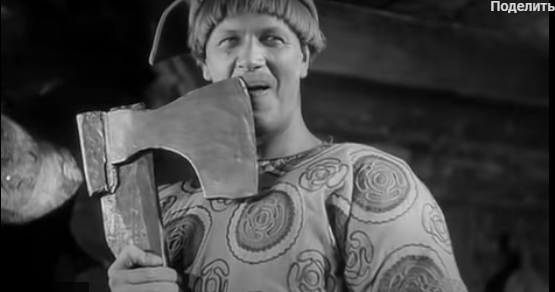 I also really liked the ax from the movie "Alexander Nevsky" (1938). But to make an exact copy of it, even from improvised materials, has become an impossible task.
First of all, it turned out that the first stone axes were not drilled, a groove was knocked out on them, into which a fork of a branch was inserted, after which the whole structure was wrapped with strips of leather soaked in fish or hoof glue. Of course, this was not an absolute solution, but the strength of such a mount for a hunting and battle ax was quite sufficient.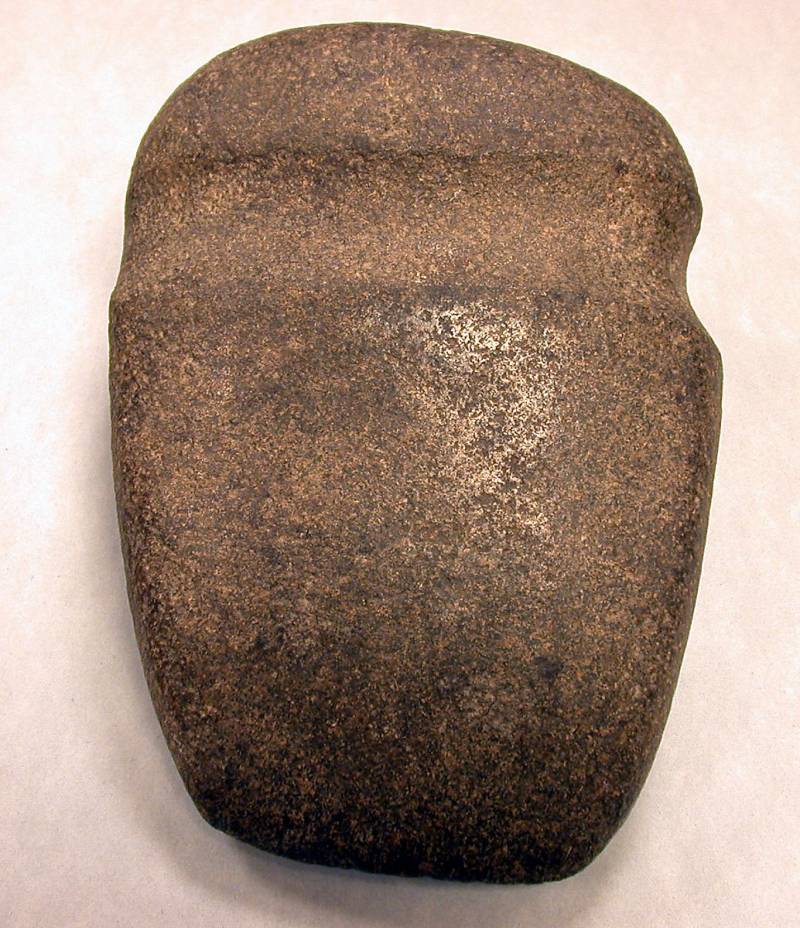 The so-called "grooved axe", ca. 6000–4000 BC e. State of Illinois. Metropolitan Museum of Art, New York
In the Neolithic era, turned and polished axes were thought to be fixed with leather straps in a drilled lateral process of a branch. That is, upon impact, he had something to rest against with a blunt butt, and a braid protected the process from splitting. True, it was still necessary to look for such a branch with a process at a right angle and the required thickness.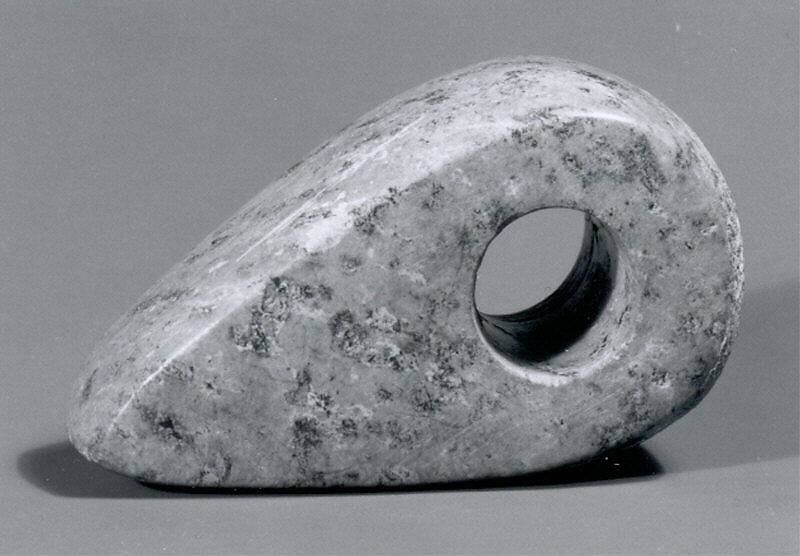 Drilled stone ax from the early Bronze Age, 3rd millennium. Anatolia. Metropolitan Museum of Art, New York
Then axes learned to drill. A wooden drill, which was rotated with a bow, pouring wet quartz sand under it, a tubular bone impaled on a wooden shaft, or even a copper pipe. Moreover, the fact that this is so can be considered proven by the finds of undrilled axes, which began to be drilled, and then for some reason they were abandoned.
Then the axes began to be cast. First, in open forms, after which the lateral process of a strong branch was also hammered into them and wrapped with leather. Then they thought of casting them in double-sided molds, and already immediately with a ready-made hole in the butt for the handle.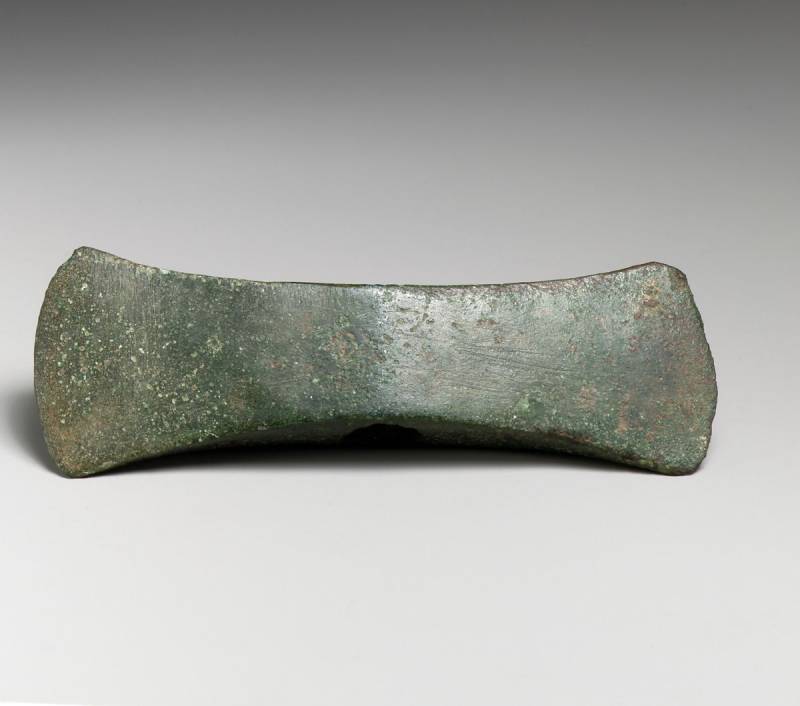 Bronze double ax from Crete, c. 1400–1050 BC e. Metropolitan Museum of Art, New York
Early axes were often made double. This added weight to them and increased the service life until the next sharpening. And it was often necessary to sharpen bronze axes.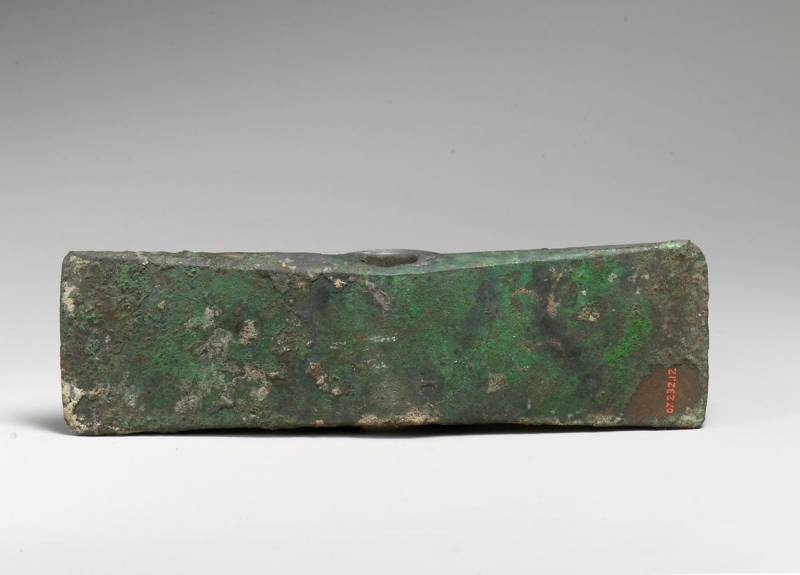 Double ax from the late Minoan period, c. 1600–1450 BC e. Metropolitan Museum of Art, New York
In ancient Egypt, it was the ax, along with the mace, that became the main weapon of all Egyptian infantry and even kings. They were very different in shape, but they tried not to spend a lot of metal on them. Therefore, the Egyptian axes did not have a butt, and their blade was completely flat and inserted into the cut of the handle, after which, again, it was fixed on it with leather straps soaked in resin or hoof glue.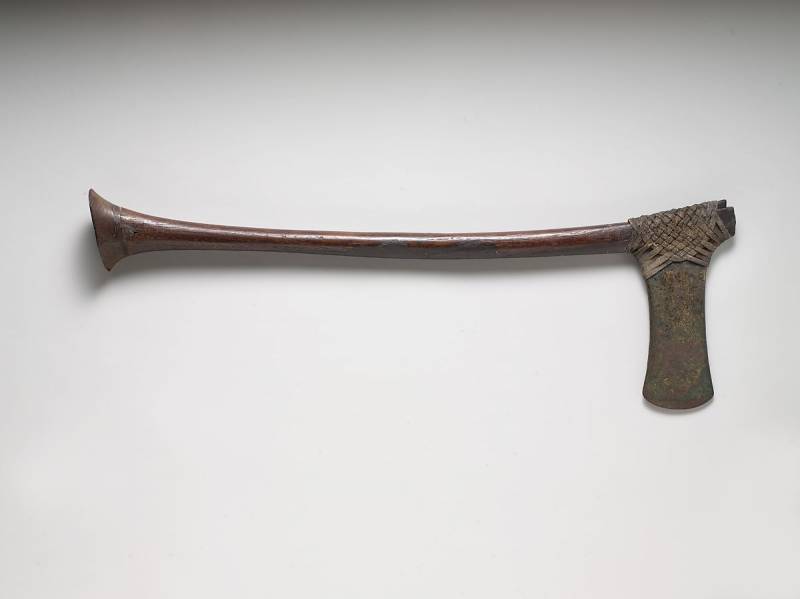 Bronze axe, ca. 1635–1458 BC e. The Second Intermediate Period is the early New Kingdom. The blade of this battle ax is one of the earliest examples of its kind. He was found in the coffin of "guard Hai", presumably a military official. The handle was made from a branch of a tree chosen for its curvature. The manufacturing technology of such axes made it possible to save precious raw materials and reduce labor costs. The leather strap that attached the blade to the hilt fell apart from time to time and was restored in the museum based on the finds of other, better preserved specimens. Metropolitan Museum of Art, New York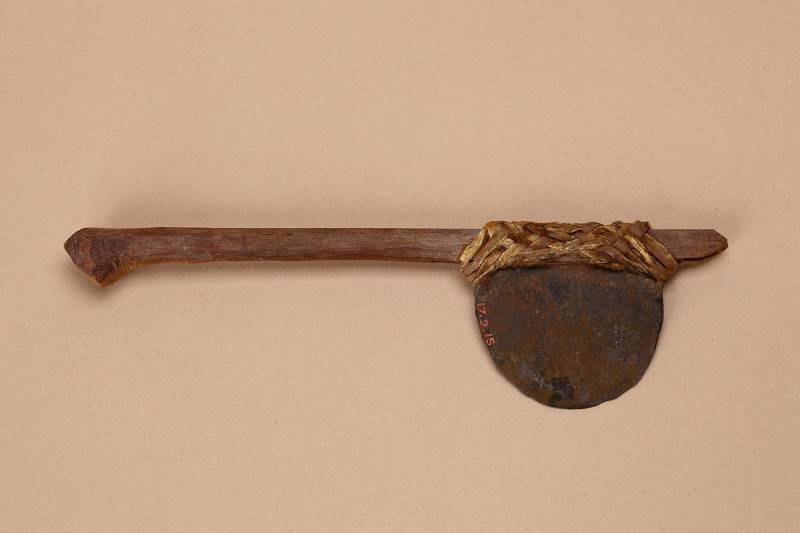 Another purely combat Egyptian axe. Middle Kingdom, XII Dynasty, c. 1981–1802 BC e. Middle Egypt, Assiut (Lykopol), Ankhef tomb (tomb 9). Metropolitan Museum of Art, New York
And this is also an ax of the Middle Kingdom, and with a figurine of a monkey swinging lotus stems with flowers, ca. 1981–1640 BC e. It is obvious that he belonged to a man not simple, but with a position! Metropolitan Museum of Art, New York
In Greece and Rome, axes were used as weapons, but very little. True, it was the axes (called fascia), lined with a bunch of rods, that were the ceremonial weapons of the lictors - the honor guard of important Roman officials. They were used as follows: first, a person sentenced to death was flogged with these rods, and then his head was cut off with an ax.
By the way, it was from the word fascia (bundle) that the word fascism originated, and it was fascia that became his emblem in Italy under Mussolini, and three fascias in a white circle - the emblem of the Italian Air Force.
It is interesting that, on the other hand, in Europe of the Dark Ages, a whole tribe appeared, which considered the ax almost the main weapon. These were the Franks, and the ax was called the Francisca - in their honor. It was a very peculiar weapon, which, of course, could be cut, only the Franks preferred to throw it, like an Indian tomahawk.
Each Frank was supposed to have an angon spear with a serrated tip, a Francis, a Roman-style spatu sword, a shield and a helmet. Armor - "brunia" was mainly among the leaders and was a leather jacket sheathed with iron scales. By the way, metal was then saved. That is why Francis is small in size.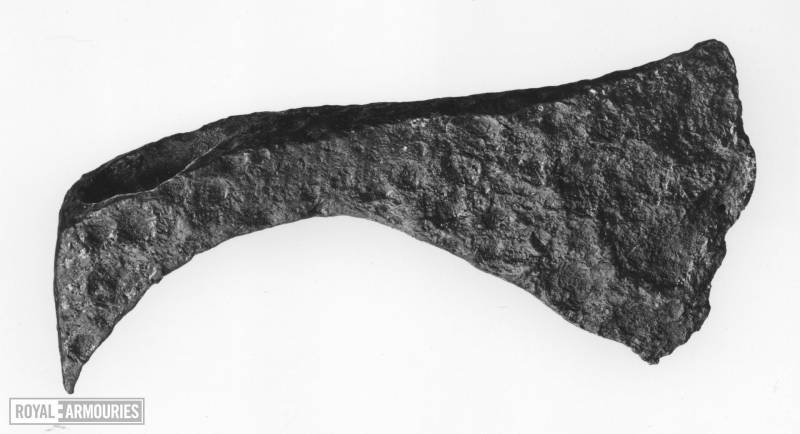 Francis - the ax of the Franks - V-VI centuries. The blade is heavily corroded, but it can be seen that the blade is curved and has an elliptical hole for the hilt. Dimensions: total length - 160 mm. Weight: 425 Royal Armoury, Leeds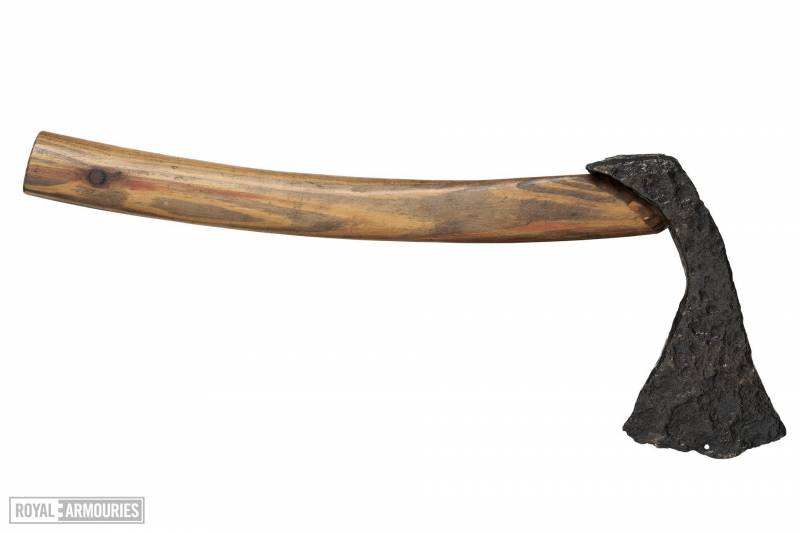 Francis with a restored handle. Royal Arsenal, Leeds
Viking axes had a very characteristic shape. On the famous embroidery from Bayeux, which we talked about in detail here on VO, these axes, almost shoulder-high, are visible in the hands of many warriors. It is known that they fought huskerls - the guard of King Harold. The embroidery shows how a horse's head is cut with such an ax on a long handle. However, it was not very convenient to use them in close formation.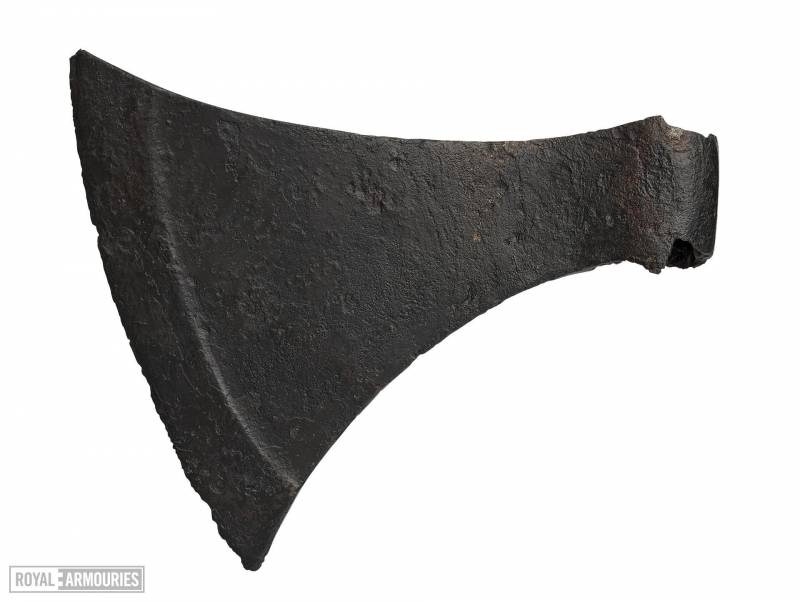 Ax X-XI centuries. Overall length: 220 mm, cutting edge width: 190 mm. Weight: 495 Royal Armoury, Leeds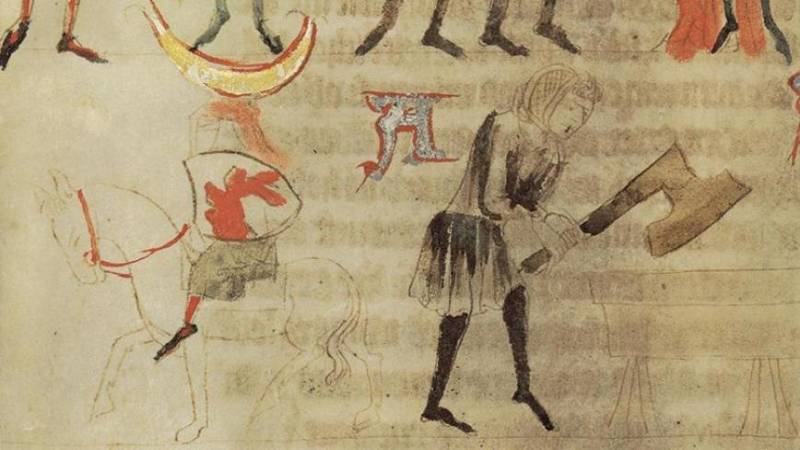 "Great Chronicles of France" or "Chronicles of Saint-Denis". Approximately the middle of the XIV century. British Library, London. As you can see, although two centuries have passed, the shape of the ax has not changed at all. Only now (for some reason?) it is also used for execution. Well, in the movie "Secrets of the Burgundy Court" they also showed just such an ax
And this is what the ax for the execution of 1743 looked like. The Royal Arsenal, Leeds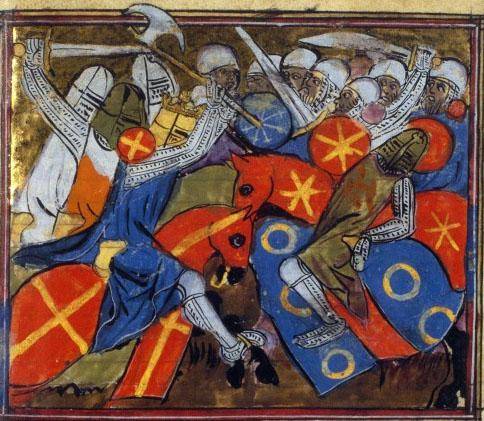 Miniature from the manuscript "History of the Holy Grail", 1300-1350. National Library of France. As you can see, horsemen at that time also fought with axes. But only their shape is slightly different.
Many images of axes are also found in other miniatures, both earlier and later, which show how they were used both in labor and in battle in the Middle Ages. But not all of them show, so to speak, their combat effectiveness. That is, how successfully they "interacted" with knightly armor.
That is why the "Morgan Bible" (according to the place of its storage), or, more correctly, the "Crusader Bible" or the "Macievsky Bible", in this regard, the source is completely unique. Apparently, the artist who designed it was no stranger to military affairs, because he very accurately depicted on his miniatures all those little things that only a warrior could know. After all, it shows how people take off chain mail, and how they put them on, and what they have under them, plate collars are accurately depicted, and the horses even have visible wounds on their sides from spurs!
And here it is just shown how helmets are cut with axes (as well as swords, by the way!) and all sorts of other terrible wounds are inflicted. Judging by the miniatures in this manuscript (as well as in the Manes Codex manuscript), we can say that both the ax and the sword cut the then helmets and chain mail easily! And again - all the axes in the "Bible ..." have the characteristic shape of a crescent.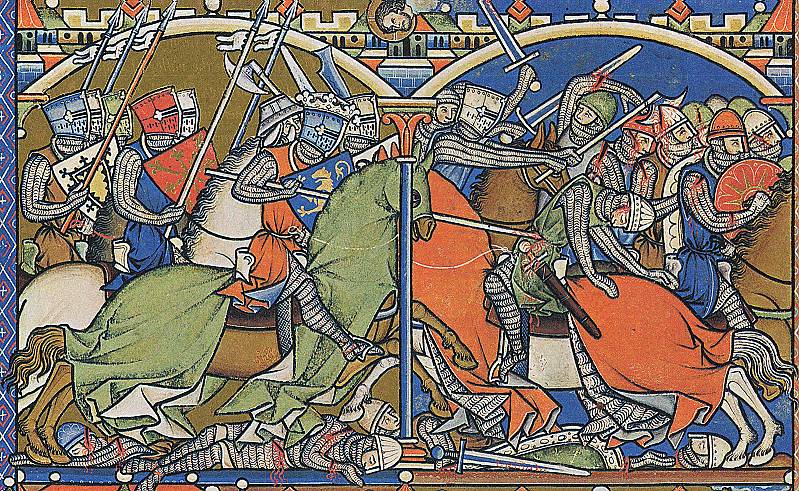 Miniature from the Maciejowski Bible, 1240–1250. Pierpont Morgan Library and Museum. New York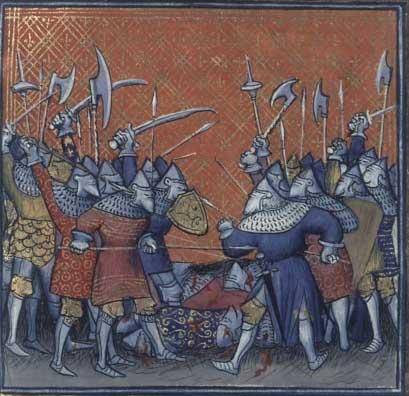 Miniature from the manuscript "From the founding of the city", 1400-1410. National Library of France, Paris. There are as many as five axes, including one real reed ...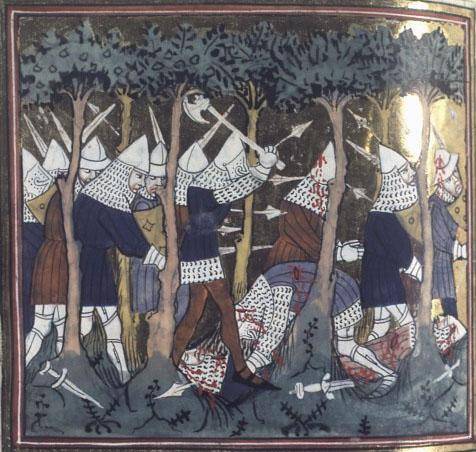 It is interesting that blows with an ax were applied not only with a blade, but also with a butt! Miniature from the manuscript "From the founding of the city", 1400-1410. National Library of France, Paris
Well, what kind of battle axes were already used in the New Age, we will tell you next time ...