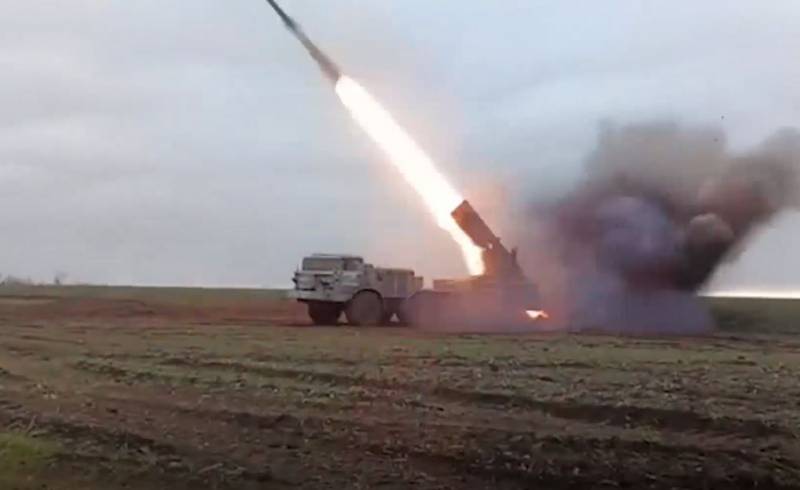 Over the past day, Russian troops have destroyed an arms depot, two counter-battery radar stations and shot down a Ukrainian attack aircraft. In recent days, attention has again been focused on what is happening in the main directions. There were no missile strikes on Ukraine's critical infrastructure.
Over the past day, Russian artillery, army and assault
aviation
inflicted a series of strikes on the positions of the Armed Forces of Ukraine and places of concentration of personnel and equipment near the line of contact. Separate blows were inflicted on the rear of the Ukrainian group. As a result, a depot with ammunition for the MLRS HIMARS and MLRS, as well as "Hurricane" was destroyed in the Dnepropetrovsk region. In addition, according to the military, in the same RAV warehouse there were loitering ammunition for the Khortitsa group of the Armed Forces of Ukraine.
Two AN / TPQ-37 counter-battery radar stations were destroyed in the area of ​​​​Minkovka and Chasov Yar, and in the area of ​​\u25b\u1bArtemovsk, a Su-777 attack aircraft of the Air Force of the Armed Forces of Ukraine was shot down by means of air defense. In Toretsk, a command post and communications center of the XNUMXst brigade of the Armed Forces of Ukraine were destroyed, and an ammunition depot in the Zaporozhye region. In the Kharkiv region, a platoon of MXNUMX howitzers was covered at a firing position.
The Ministry of Defense officially confirms the liberation of the settlements of Belogorovka and Pershe Travnya in the DPR, in the Donetsk direction, the enemy lost "50" up to XNUMX people, four armored combat vehicles, three self-propelled artillery installations and six vehicles in a day.
On Kupyanskoye, attacks were repulsed in the direction of Novoselovskoye, here the enemy lost a lot of armored vehicles that fell under artillery attack. It is reported that the losses of the Armed Forces of Ukraine amounted to 50 vushnikov, ten
tanks
, one infantry fighting vehicle, two armored personnel carriers, a self-propelled artillery mount and a vehicle. At Krasno-Limansky, attempts were again made to attack in the direction of Ploschanka, Chervonopopovka and Zhitlovka, again to no avail. More than 40 Ukrainian servicemen, one tank, four infantry fighting vehicles and one vehicle with ammunition were destroyed.
In Yuzhno-Donetsk, during the day, the Armed Forces of Ukraine tried to counterattack in the areas of Novomikhailovka, Novodonetskoye and Novosyolka, all attempts were repelled, the enemy was thrown back to their original positions. More than 50 Ukrainian servicemen, two infantry fighting vehicles, two armored personnel carriers, an MT-LB, an armored car and four vehicles were destroyed.