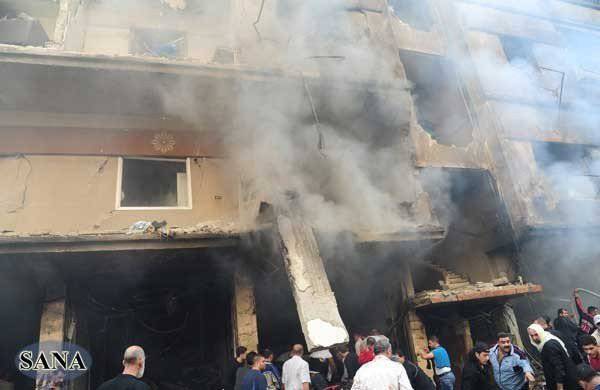 On Monday, October 29 was the last day of the holy Muslim holiday of Eid al-Adha, and along with the failed truce. On this day in the metropolitan region, two major terrorist attacks occurred at once.
In the morning, a car bomb exploded in a Damascus suburb of the long-suffering Jaraman, in which 11 people died, more than 60 were injured.
This is not the first explosion in Jeraman. On August 27, terrorists staged an explosion, as a result of which several people died, and the next day, August 28, a funeral procession was blown up, during which these dead were escorted to their last journey. As a result, 12 people were killed, 50 injured. 3 September was a destructive terrorist attack, when the gangsters blew up a mined minibus, as a result of which several people also died, there were a lot of wounded and huge material damage was caused to residential buildings. And here is another terrorist attack, also in the middle of a densely populated residential quarter.
Again, blood, suffering, sacrifices ... Apparently, the Syrian "oppositionists" understand the meaning of the holiday of sacrifice in a very peculiar way, they have prehistoric concepts about it. Only now such concepts are for some reason called "the struggle for freedom".
The second terrorist attack thundered in the metropolitan area Hazhar Asvad, as a result there are also dead and wounded.
In addition to the attacks against civilians, the militants, in violation of the truce, bombarded the army and police checkpoints, attacked military units, attacked government agencies. The Syrian army documented such cases of violation of the cease-fire agreement - there were more than a hundred of them in 4 day!
But as his initiative to truce praised Lakhdar Al-Ibrahimi! Either he is a hopeless idealist, who does not understand what the Syrian "opposition" is, or he simply doesn't want to understand this and doesn't want to see their bloody deeds. He continues his calls for "dialogue." At a meeting with Russian Foreign Minister Ibrahimi, he said he would continue to make efforts to "put an end to the violence and build a new Syria."
But why, in order to put an end to violence, Ibrahimi cannot muster courage and openly demand from all countries, especially the USA, Turkey, Qatar, Saudi Arabia, to stop supporting terrorism?
And with whom does Ibrahimi propose to build a "new Syria" - together with those who destroy it? Who blows up everything that comes to hand? Who kills its citizens in the name of some kind of "democracy"?
Unfortunately, Foreign Minister Sergei Lavrov this time made a too "toothless" statement - he said that, they say, "now it makes no sense to talk about who is to blame." How does this make no sense? Hired gangsters, jihadist fanatics and evil spirits, driven from around the world, do not want a cease-fire, and only want to kill! The current attempt to achieve at least a temporary truce eloquently showed this - for the third time. How much more evidence is needed?
Western politicians, it would seem, have a great opportunity now to "jump off" the Syrian adventure they started, and stop spending their own taxpayers' money to support outright bandits, while these countries themselves have enormous social problems. It would seem that they wanted to quickly break the disagreeable Syria and its disobedient leader, but it did not work out, and for almost two years they have not advanced in this direction. It did not work out the desired blitzkrieg. Why continue the meaningless "crusade", spending more and more the resources of their peoples, drowning deeper and deeper in dirty business, more and more exacerbating the threat of a new world war that will hurt everyone and everyone? Stop, gentlemen! Now there is a good excuse - they say that we were mistaken, we thought that the battle for democracy and the people's revolution was going on, however, the "revolutionaries" showed their faces, and we can no longer support this.
But no! Instead of this sensible policy, the Syrian state is still throwing mud at it, lies and falsifications continue, the sending and supply of terrorists continues
weapons
. In violation of all reasonable norms, of all human logic, of all moral principles, falsification, lies, disinformation continue. According to Western media, terrorist acts in Syria, perpetrated by the militants, continue as "the bombing of the bloody regime of their own cities". He continues to shift the blame on the innocent, and the victims of the "opposition" are killed again, morally, when they are presented as victims of the "dictatorship".
Yes, they are victims of the dictatorship. But not that imaginary "dictatorship" that is unsuccessfully searched for with lanterns and searchlights in Syria. And that dictatorship that really reigns over this world is the dictatorship of the United States. That dictatorship that is beginning to falter under the influence of such recalcitrant countries like Syria and such rational states that support it or at least declare the inadmissibility of overt lawlessness and trampling of international law. This global dictatorship, already writhing in convulsions, still does not want to give up its position and wants to pull as many countries, people, and peoples as possible into the grave. She clings to her bloody opportunities, desperately pulling a wad of dollars to her last serfs fighting in Syria. She is still trying to give out black for white and vice versa. But I would like to hope that it is here, on the ancient Syrian land, that this global dictatorship under the star-striped flag will emit its last breath!