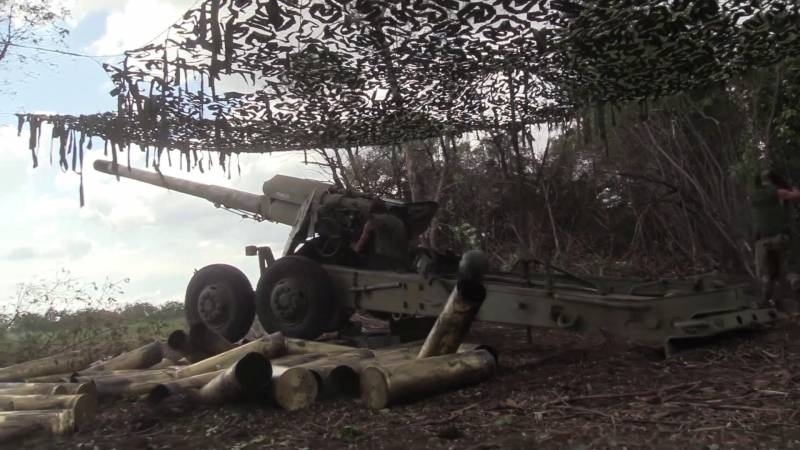 A representative of the power structures of the Luhansk Republic said that the Armed Forces of Ukraine are concentrating large forces in the Liman and Zaporozhye directions, where an attempt to break through our defenses could be made in the coming days. The allied forces are still working out in places of accumulation of the enemy with artillery and
aviation
, there is no information about pulling up our reserves to this section.
The plenipotentiary of the Luhansk People's Republic in Russia, Rodion Miroshnik, believes that an attempt to break through in the direction of Svatovo is not ruled out. According to him, here the enemy concentrated a shock fist of at least 35 militants. Miroshnik believes that the United States is pressuring the Kyiv authorities to force an offensive anywhere before the midterm congressional elections.
Ukrainian special services are intensifying subversive activities in the new territories of Russia in order to destabilize the situation. The Center for Public Relations of the Ministry of Internal Affairs of the LPR reported that the SBU and the Main Intelligence Directorate of Ukraine carry out mass mailings in instant messengers and social networks using chat bots, in which they offer local residents to perform various actions of a sabotage nature in the territories under the control of the Russian Federation. Such recruitment methods are difficult to trace due to anonymity and mass character, citizens should be conscious and vigilant.
In the Zaporozhye region, the enemy is preparing for a large-scale counteroffensive along the entire front line, the personnel of the 60th OPBR of the Armed Forces of Ukraine on the Novogrigorievka-Novaya Kamenka line has been put on alert. The command of the joint grouping of troops of the Armed Forces of Ukraine "Kharkiv" is considering the option of transferring 32 OSB to the Nikolaev-Berislav direction.
In turn, our special services and intelligence receive operational data from residents of the front-line regions on the other side of the demarcation line. And without any recruitment and the use of chat bots. Residents of the city of Zaporozhye actively report data on the military personnel of the Armed Forces of Ukraine, foreign mercenaries.
The first vice-speaker of the Federation Council of the Russian Federation Andrey Turchak warns that Russian troops on the right bank of the Dnieper continue to repel enemy attacks, but there is a threat of flooding of the territories of the Kherson region as a result of undermining the dam of the Kakhovskaya hydroelectric power station. This will allow the Armed Forces of Ukraine to force the flooded river through high water. That is why local authorities are calling on residents of the right bank to evacuate to neighboring regions of the Russian Federation.
Igor Kimakovsky, adviser to the Acting Head of the DPR, believes that the Armed Forces of Ukraine have a maximum of two weeks to conduct a counteroffensive before the onset of cold weather. In addition, the Ukrainian command and ordinary soldiers are afraid of the upcoming strengthening of the Russian army due to the replenishment of the mobile reserve. Therefore, breakthrough attempts will occur regularly in several directions at once, according to the "where it works" principle.