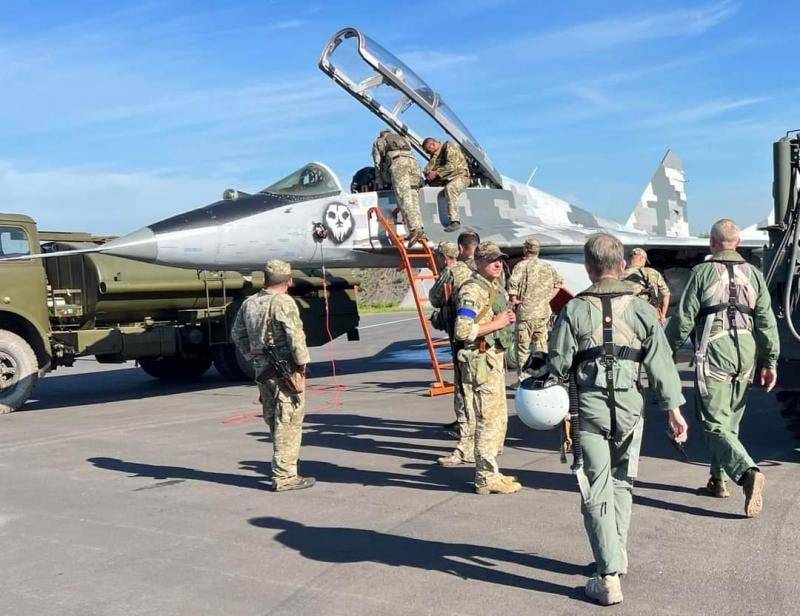 Even at the beginning of the special operation of the RF Armed Forces in Ukraine, the Kyiv regime suffered critical losses in combat
aviation
. It was possible to compensate for them only thanks to the transfer of equipment from the countries of the former socialist bloc and the return to service of long-decommissioned machines thanks to the work on their restoration deployed in Eastern Europe.
But it was not possible to revive a full-fledged Air Force - there is an acute shortage of front-line aviation of all types: helicopters, fighters and attack aircraft. In this regard, the Armed Forces of Ukraine are trying to get out, using equipment for other purposes. So, the other day, photographs were shown showing MiG-29 fighters in the most "lightweight version".

The armament is a single aerial bomb, placed in a niche between the two engines, which reduces air resistance in flight. The same goal was pursued when dismantling the fuel tanks. This kind of "modernization" of the MiG-29 is designed to maximize its flight speed for carrying out swift attacks on ground targets, that is, it is aimed at using a classic air combat fighter as an attack aircraft.
As reported, pilots are involved in piloting, who have long gone on a well-deserved rest. These are people under the age of "under sixty", who were retired. Now they are being returned to service.
The next flight will show how the MiG-29 converted into an attack aircraft and its gray-haired crew will behave in battle.