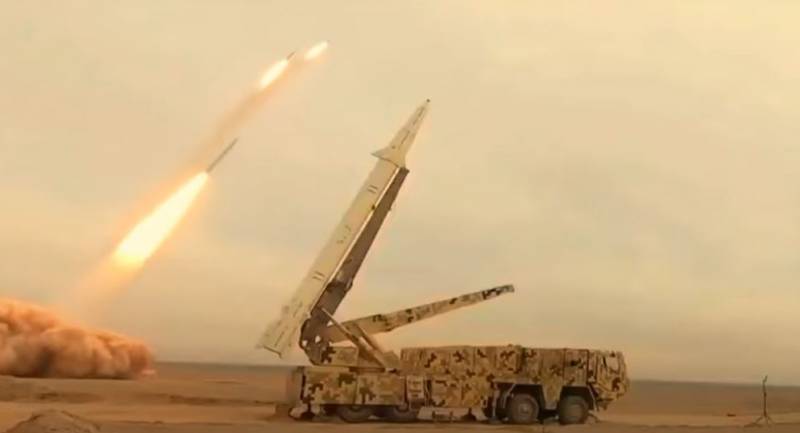 Iranian ground forces tested two guided missiles during their annual defense exercise.
Fatah-360 and Fajr-5 satellite-guided missiles tested for the first time
said Brigadier General Karim Chashak, spokesman for the Ektedar-1401 exercise.
At the same time, the general did not say what kind of navigation and global positioning system they use for such missiles. For obvious reasons, this is definitely not a GPS.
He added that Fath-360 was traveling at four times the speed of sound. Earlier, Iran introduced the Fath-360 missile at the Army Day parade. This was in April 2022.
Teachings of the Ground Forces of the Iranian Army "Ektedar-1401" were held on September 7-8 in an area in the province of Isfahan. The exercise involved infantry, armored, artillery, air force, unmanned, engineer, airborne and electronic warfare units supported by
aviation
Iranian Air Force.
The military exercises were aimed at increasing the level of combat readiness of the Iranian Ground Forces to confront new threats. The ground forces used various military equipment, including drones,
Tanks
T-72S, Chieftain, domestic Carrar, as well as Fateh anti-aircraft missile systems.
According to Yousef Korbani, commander of the Iranian army aviation, the helicopter protection system and the updated Shafak missile were successfully tested during the exercises. The upgraded Shafak missile, with a range three times longer than before, was launched from a Cobra helicopter and hit the target with high accuracy.
Helicopters equipped with night vision devices were used for the first time on the battlefield in a fully offensive manner during a night assault operation as part of an exercise. Speaking on the sidelines of Ektedar 7 on September 1401, Major General Gholam Ali Rashid, Commander of the IRGC Headquarters, stated:
The maneuvers of the Ground Forces are planned and carried out in accordance with possible future wars and other possible threats.
These words clearly mean a likely threat, a threat from Israel. It was this country that the generals most often mentioned during the exercises, hinting at the expected actions on its part, directed against the national interests and security of Iran.