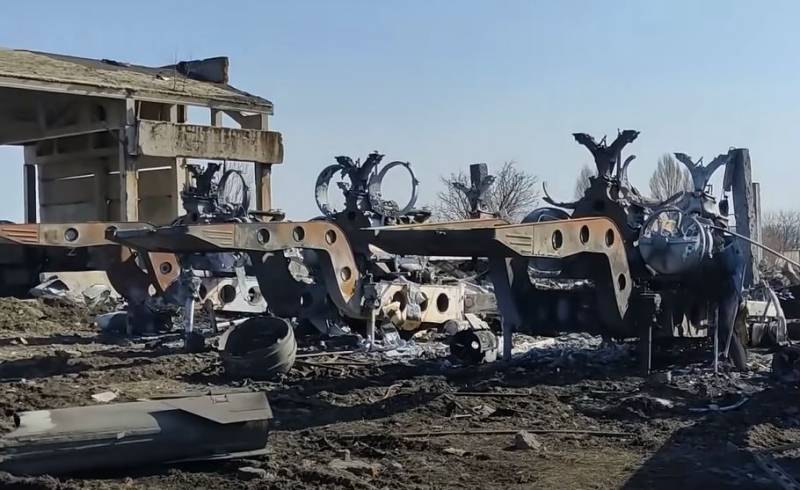 The photo is illustrative
The Russian Ministry of Defense confirmed the attack on the Chuguev airfield in the Kharkiv region, as a result of which the launchers of the S-300 anti-aircraft missile system of the Armed Forces of Ukraine were destroyed.
The Russian Armed Forces continue to strike at the military infrastructure of Ukraine, depriving the Ukrainian army of reserves, as well as destroying ammunition depots, fuel storage facilities, as well as weapons and equipment. Over the past night, two targets were struck at once.
According to the military, during the night the Russian Armed Forces launched a series of attacks on the Chuguev military airfield in the Kharkiv region and on the area of ​​​​the village of Starobogdanovka in the Nikolaev region. The strike was delivered by high-precision air-launched missiles. As a result, the launchers of the S-300 air defense system were destroyed. Whether they are part of the S-300 division transferred by Slovakia or not is not reported. In any case, the Armed Forces of Ukraine have lost another anti-aircraft system capable of threatening our
aviation
.
The second blow was struck at the headquarters of the nationalist battalion "Dnepr", located in the village of Zvonetskoe, Dnepropetrovsk region. According to the Ministry of Defense, in addition to the militants of the national battalion, there were also foreign mercenaries who arrived with the next replenishment. The headquarters and base of the nationalists and mercenaries were destroyed at night by sea-based Caliber missiles.
The operational-tactical aviation continued to strike, 86 military facilities of Ukraine were hit, including: two command posts, two ammunition depots + three fuel depots, three MLRS. In addition, strikes were made on strongholds of the Armed Forces of Ukraine and concentrations of armored vehicles.
Air defense landed eight drones of various types, there are no Turkish Bayraktar TB2s among them, planes and helicopters of the Armed Forces of Ukraine did not take off, and if they did fly somewhere, our anti-aircraft gunners did not come across.
In total, since the beginning of the special military operation, the following have been destroyed: 127 aircraft, 98 helicopters, 234 S-300, Buk-M1, Osa AKM anti-aircraft missile systems, 436 unmanned aerial vehicles, 2052
tank
and other armored combat vehicles, 232 multiple rocket launchers, 894 field artillery and mortar guns, as well as 1975 units of special military vehicles
- summed up the results in the Ministry of Defense.