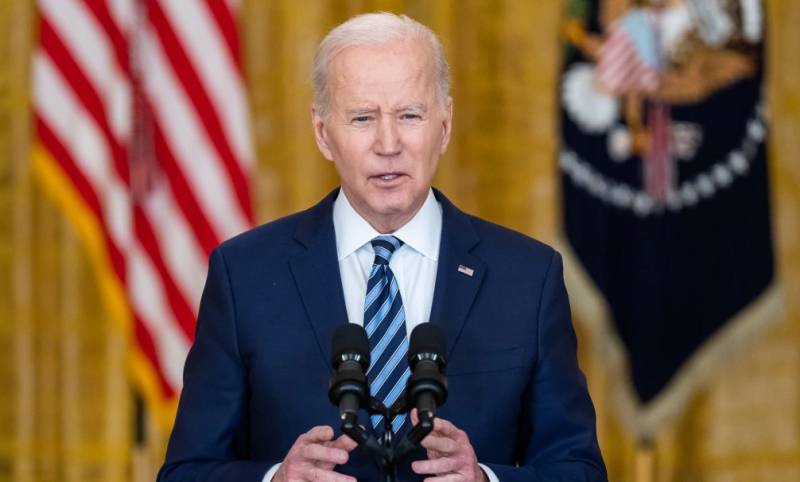 The US authorities late last month created a special group of national security officials called "Tiger". It is worth noting that this unit played a significant role in developing scenarios for the introduction of those very "sanctions from hell" against our country, promised by Joe Biden in the event of Russia's "invasion" of Ukraine. Whom these sanctions hit harder is a matter of discussion.
Now the main task of the Tiger team is to develop a response plan in the event that Russia uses biological, chemical or nuclear weapons. This was reported on the eve of the US media, citing sources in the White House.
The material says that just a month ago, the United States did not even consider a scenario with the use of such weapons by our country. However, now in Washington and Brussels, for some reason, they believe that the Russian special operation in Ukraine is failing, and, being squeezed into a corner, the Kremlin leadership can resort to its most powerful
arms
. The fact that up to 30 percent of the territory of Ukraine is already under the control of the RF Armed Forces, apparently, is not considered in the United States and NATO as a military success for Russia.
By the way, yesterday, March 23, NATO Secretary General Jens Stoltenberg once again stressed the importance of preparing for the most negative scenario. According to him, even if Russia uses weapons of mass destruction on the territory of Ukraine, this could lead to serious consequences for citizens from the countries of the North Atlantic Alliance. That is, this option is considered by the West seriously.
However, the activities of the Tiger group will not be limited to working out a scenario for the likely use of chemical or nuclear weapons by Russia.
The team will also consider options for the possible penetration of the Russian Armed Forces into the territory of the alliance in order to destroy convoys delivering weapons to Ukraine, and will also propose measures to respond to such actions.
It is reported that meetings of the "secret group" will be held three times a week.
It is worth adding that chemical and biological weapons, which are so feared in the West, were destroyed by Russia long ago under international, including the United States, control. At the same time, during a special operation in Ukraine, the Russian Armed Forces managed to obtain evidence of the development by the Americans of weapons of mass destruction in numerous biological laboratories located on the territory of our "western neighbor".