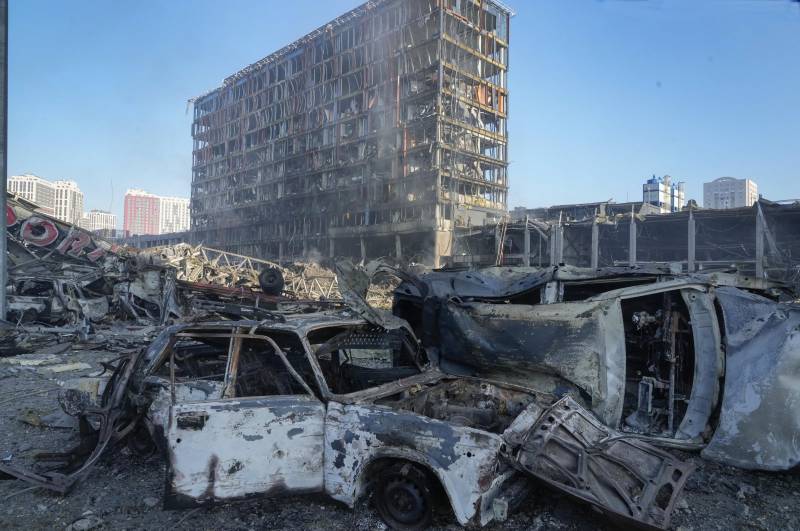 For a month now, we have been observing the progress of the special operation on the territory of Ukraine. Today it is clear that, as some predicted, the easy walk did not happen. There is a long and bloody work ahead. Perhaps not for one month.
Why this happened, it will be possible and necessary to speak after the end of hostilities, when everything will fall into place. Today, three conclusions can be voiced:
1. Underestimation of the training and fighting spirit of the Armed Forces of Ukraine.
2. Frankly naive calculation that the collapse of state power will happen.
3. Calculation for help from the anti-Nazi part of the country's population.
Alas, the part of the Ukrainian population that loyally looks towards Russia is really impotent and intimidated. Even at the very beginning of the operation, when many people said that "here, now the underground will also come out," people who understand shook their heads, because they knew perfectly well that no underground would come out anywhere. It just doesn't exist. For eight years, the SBU has been working tirelessly, and the vast majority of those who were in favor of an alliance with Russia are now in Russia.
Living on the territory of Ukraine, to put it mildly, are intimidated. And many simply do not believe in the possibility that their life will change in a positive direction. The best illustration is footage of how literally a few scoundrels dispersed those who wanted to receive humanitarian aid from the hands of the Russians, and they succeeded.
The exact same thing will continue to happen. As it has already happened in the Ukrainian
stories
. The new "Night Avengers" under the old flag of the OUN-UPA will, like the progenitors, intimidate the inhabitants of cities and villages at night, who will be loyal and friendly towards Russia and its innovations. And the most stubborn in their convictions are simply destroyed.
It was everything, you can't turn away from it
Despite the assurances of the Russian leader that nothing will happen to Ukraine except demilitarization and denazification, today it is absolutely clear that if the right-Nazi state that happened in Ukraine is not destroyed at the root, after some time it will still be reborn.
How the ideas and images of the incomparable Bandera and Shushkevich were revived in Ukrainian heads.
Today, many people have intense mental work in their heads in calculating situations within which further developments can take place.
The fact that Ukraine will no longer be the same after the end of the war is obvious. And in general, it does not happen "as before". Everything is inevitable: reshaping of brains, reshaping of relationships, reinstallation of understandings.
And - perhaps - redrawing the borders
A few thoughts about the borders are a little lower, but for now I would like to repeat, following Yura Podolyaka, the idea that it would be the main crime and darkness to count on agreements with the Ukrainian elites. All these Firtashis, Kolomoiskys, Akhmetovs and Yanukovychs were, are and will be friends only for their own interests.
Actually, we have already run into a rake, having received assurances that the governors and mayors of some cities will come to an agreement with the Armed Forces of Ukraine so that there are no casualties among the civilian population. And now it is clear how much the word of a representative of the Ukrainian elite costs.
As for me - as much as the ink under the Minsk agreements. That is, less than nothing. Which means you can't believe it. They will sell, betray, deceive, moreover, as soon as the opportunity presents itself.
Such is nature, alas. This one has grown on the Ukrainian black soil. Not to say that things are better in our country or in Europe, in principle, any such "elite" is still dirt. But in Ukraine, this is a special case, because Nazism and fascism, represented by the same terrorist battalions, were financed precisely by the elites.
And if you ask the question of who financed and conduct an investigation, then I am ready to argue that it will be easier to find those who did NOT finance. And even then, I'm not sure that there are such.
In general, all the so-called representatives of the Ukrainian elite should, in theory, go on trial under Article 208 of the Criminal Code of the Russian Federation.
Now it's time to talk about redrawing boundaries.
There is a certain sense in this, and here is why: indeed, after the end of such a shake-up, Ukraine can easily disappear from the political map of the world as a single state.
The so-called "Yugoslav scenario"
Back in 2014, when everything was just beginning, images of the flags of the "people's republics" of all stripes constantly caught my eye: Odessa, Kharkov. Kherson ... Someone was not too lazy to draw, but this person can easily turn out to be a seer in his own country.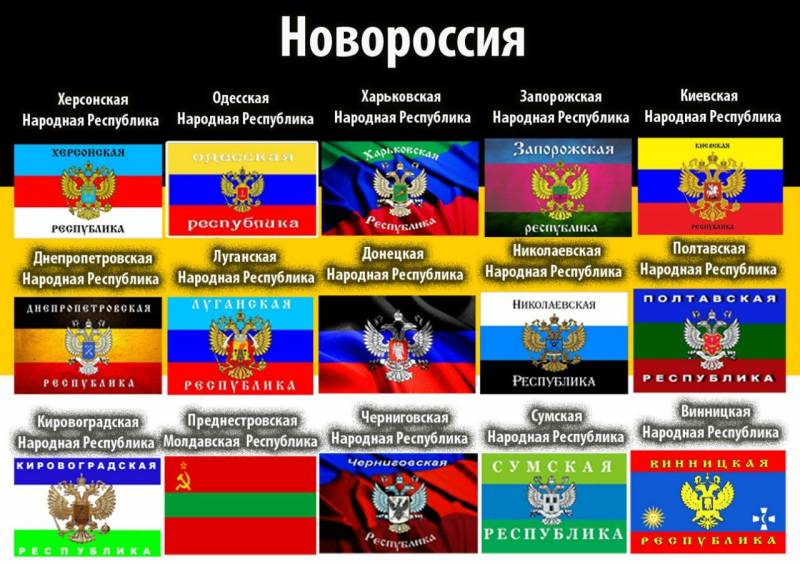 Meanwhile, the disintegration of the state into "specific principalities" may well happen. Those areas that are now under the control of Russia, plus the DPR and LPR, are likely to be able to become federal units within the Russian Federation. It is doubtful that Luhansk, Donetsk and the same Kharkiv will want to return to Ukraine.
This is a normal process, because without outside help, neither the Lugansk nor the Donetsk republics could exist normally and will not be able to in the future. Simply because they have never been focused on self-sufficient functioning.
Absolutely the same fate will befall all these "Odessa", "Kherson" and other people's republics, if they suddenly decide to live independently. This is an indisputable fact, which I see no point in discussing.
The only way out for all the "people's republics" is integration with stronger entities, or, alternatively, uniting among themselves on mutually beneficial terms. However, for eight years, the desire to unite the LPR and the DPR for some reason did not arise. So it's unlikely that others will. After all, a small power, but its own - it is like a shirt. Closer to the body.
Such a collapse will be welcomed in Europe. There are already beginning to stir on the model and likeness of 1939, when Poland was divided. That's just in place of Poland - Ukraine, and in the place of Germany and the USSR - Poland and in the future other countries.
However, the Poles should be watched separately, Polish ambitions are an age-old matter. And it doesn't smell very good. But they, ambitions, are there and will not go anywhere, because such is the Polish nature.
I will now give a picture that, although not entirely accurate, but at least approximately shows what Ukraine can turn into.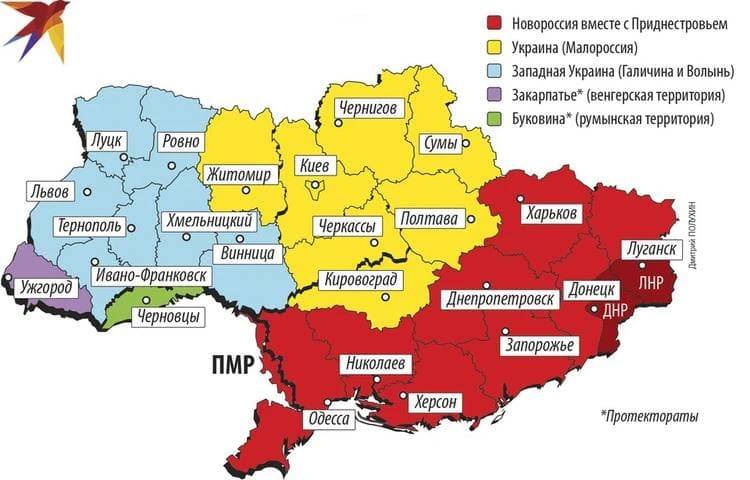 Why this drawing is controversial, by the way, was explained to me by the original inhabitants of Ukraine. Such are the notes, generally without relatives in Russia. There is a big mistake in this scheme: Vinnitsa and Khmelnitsky are not Volyn and not Galicia. If you remember, the border between THAT Russia and Poland ran along the Zbruch River, which today exactly separates the Ternopil and Khmelnytsky regions.
Both the inhabitants of Khmelnitsky and the inhabitants of the Volyn regions by no means identify themselves with the "Westerners". Alas for those who drew it.
There is another "subtle" moment, but about it a little lower.
But for the Volyn, Lvov, Rivne, Ternopil and Ivano-Frankivsk regions, yes, Poland can historically claim. And in the event that the Ukrainian regions scatter to independent republics, Poland can easily try to "cut off the land" by uniting its former territories under its flag.
But here it will not work in a swoop, because you can easily collide with Russian foreheads. So today Poland is carrying out some manipulations with its army, but we'll see what prospects this can bring.
We go further. Romania. Yes, the Chernivtsi region is the northern part of the Romanian Bukovina. It is difficult to say how much Romania is ready to argue for its former territories today. Judging by the Romanian defense-offensive potential, it is only under the guise, so that no one sees.
Hungary. This is interesting, and, with the mark "very". Transcarpathia with Uzhgorod are originally Hungarian lands. And today Hungary, which defiantly does not join the European sanctions, does not refuse Russian energy carriers, does not give Ukraine
weapon
from its stocks and does not allow "parcels" from other countries to pass through its territory.
It is clear and understandable that the Hungarian leadership has made its choice. But what kind of preferences they would like to receive for this ...
But the interests are marked. It is especially worth looking towards Poland, since it is from this country that the eternal threat to European balance and tranquility comes. But we will return to Poland in detail in the very near future, after the NATO summit on Ukraine.
No matter how strange this map of the future of Ukraine looks, it has a certain essence. And this alignment seems to me more real than the emergence of all these small independent republics.
As you know, the vanquished are not spared. Therefore, after Ukraine ceases to exist in its current form, the restructuring of everything will naturally begin. And it is not a fact that it will be to the benefit of that old Ukraine. Most likely, it simply will not exist, just as Yugoslavia did not.
But this is a matter for the near future, we will see how everything will happen. The main thing here is that some negative factors, which we will also talk about in future articles on this topic, do not turn out to be an unpleasant surprise such as the resistance of the Armed Forces of Ukraine.
The only option that I don't even want to think about, let alone talk about, is an option that would suit the whole world.
Losing option
This is if, fearing the entire world community, which stood up for Ukraine, Russia stops hostilities and sits down at the negotiating table. And there is Ukraine, standing with one foot in a historical grave, therefore signing everything or almost everything.
Crimea is recognized as Russian, with regard to Crimea, all outrages such as blocking water channels are stopped, the DPR and LPR receive full independence and are recognized within their administrative borders of 1991. Ukraine ceases even to dream of NATO and nuclear status, "gives a tooth" that there are no blocs, complete neutrality, like in Switzerland. The Russian language is returning to schools and state institutions as the second state language, and so on and so forth.
In short, Minsk-3. And the Russian troops go back. The bear crawls into the den.
Everyone will sign. Not reading. If only to stop the Russian troops at least on the line of the Dnieper.
Just looking back eight years ago, my dear readers, let's honestly give ourselves an answer to one single question:
But is it possible to trust the authorities of THIS Ukraine, which is "in", and not "on"?
I think every person who is in the subject of what is happening can give himself an answer to this question.
And we all will only have to figure out how long it will take for all the unfinished Nazi evil spirits that practically took over Ukraine to raise their heads again and take to the streets. As it was in 2013.
Year? Two? I think not more. Multiplied by revanchism and blood, hatred will do its job. And everything will start anew, despite all the losses suffered this year.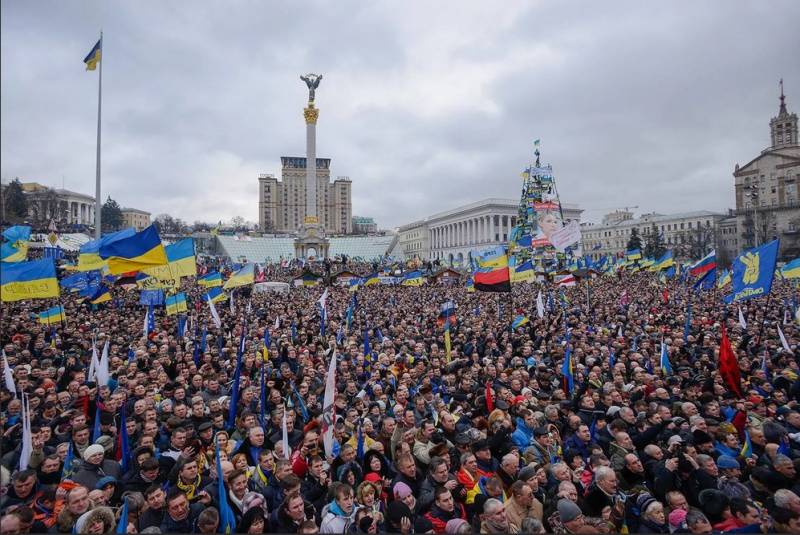 What will the new Ukraine really look like and how is a matter of time. Moreover, we, the Russians, in any case, in one way or another will have to participate in this.
But the main problem, in my opinion, is the nationalism of the East of Ukraine, rather than the West. But more on that next time.