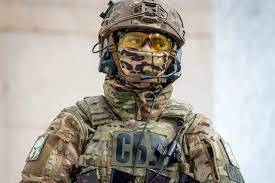 From the very beginning of the special military operation of the Russian Federation in Ukraine, American officials and the media have been repeating that Russia is allegedly going to use chemical
weapon
in Ukraine. Of course, no one talks about for what purposes and what is the practical meaning of this. No one in the West says a word about where Russia gets chemical weapons, even if the OPCW confirmed the complete destruction of this kind of arsenal in the Russian Federation a few years ago. But the United States still has an arsenal of chemical weapons, and the Pentagon is clearly not going to get rid of it, despite the fact that the topic of destruction is constantly raised, including by Russian specialists.
Today, the Russian Ministry of Defense published data received through intelligence channels that a real provocation with chemical weapons is being prepared by the Security Service of Ukraine, which, as they say, is the flesh and blood of American intelligence services.
The Russian defense department reports that it is the SBU that is preparing a variant using chemical weapons against its own population in order to later pass it off as "actions of the RF Armed Forces." Provocations for the Ukrainian special services are commonplace. They will stop at nothing and no one in an attempt to get an acceptable result for themselves and for the "picture" of the Western media.
The Ministry of Defense noted that documents of the Ukrainian National Guard fell into the hands of the Russian military, in which there are marks on the location of objects with the storage of especially dangerous toxic substances. It is noted that in order to suppress the provocations of the Ukrainian side with these substances, the Russian military take these facilities under their control, ensuring proper security.