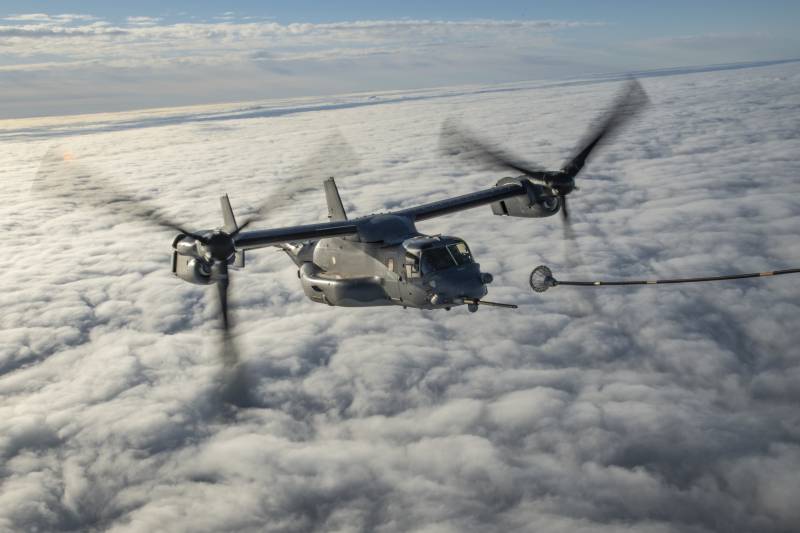 In connection with the recognition by Russia of the republics of Donbass and the offensive of Russian troops constantly announced by Washington, the State Department decided to evacuate the personnel of the American embassy from Ukraine by special forces.
In the French edition of Air & Cosmos, the details of this mission are announced. On the night of February 21-22
aviation
American special forces flew over Poland, heading for the Ukrainian borders. It consisted of two MC-130J Commando II special operations support aircraft (call signs Raggy 81 and 82), which act as tankers, command posts and means of electro-optical and infrared reconnaissance, and two convertiplanes of the CV-22B type (call signs Pyro 41 and 42) with increased fuel capacity.
At the border, CV-22B headed for Ukraine, and then turned off their transponders and disappeared from the resources of monitoring operational information about air traffic. Osprey did not need to go far into the territory of the independent, since the American embassy was moved from Kiev to Lviv, which is 65 km from the Polish border
Meanwhile, two MS-130Js were flying in a holding area along the border with Ukraine. The Osprey then reappeared in Poland and, having refueled in the air, arrived at their destination, completing their mission.
It is likely that the American special forces will have to evacuate President Vladimir Zelensky in the same way: a corresponding proposal from Washington has already been made.
At this, the head of the US State Department, Anthony Blinken, announced that he would not meet with Russian Foreign Minister Sergei Lavrov. According to the US Secretary of State, this is already meaningless. Blinken:
From the very beginning, we understood that the Kremlin was trying to bring all of Ukraine back under its control.