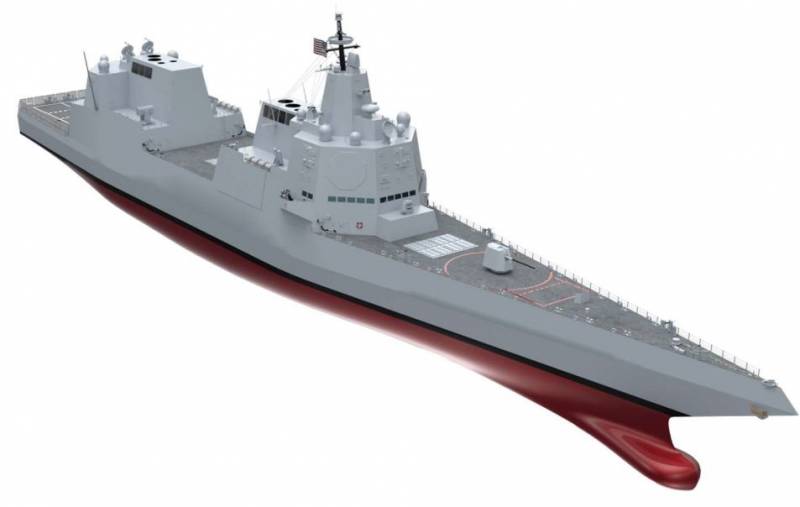 In the United States, the concept of the newest ship of the future DDG (X) is presented with hypersonic missiles and lasers, which will be ten times more powerful than existing laser weapons. The promising ship should become the largest in the last twenty years, and it will be intended for control
weapons
directed energy of a new generation. According to the USNI News resource, construction of the new ship may begin in 2028.
The main capabilities of the promising ship, which is already called a modification of the Zumwalt destroyer or "derivative of Zumwalt", in the US Navy include: increased missile potential, sensitive sensors, directed energy weapons, increased ship survivability and increased energy availability. These properties were listed by Deputy Program Manager Catherine Connelly at a meeting of the Association of the Surface
fleet
.
According to the Pentagon, the new ship will be able to serve the US Navy from 2028 to the 2060s. Its tasks will include containing new threats that may arise for America in the foreseeable future. The command of the fleet directly defines a promising ship as a platform for the implementation of bold technological ideas.
It is assumed that the traditional gas turbine power plant on the ship will be replaced by an integrated system similar to the Zumwalt class destroyers (this is where the term "derived from Zumwalt" originated). Such power plants generate enough energy to illuminate an entire small town. On the newest ship, the installations will have to power lasers capable of hitting enemy guided missiles.
The Navy plans to install a 32-cell vertical launch system Mk-41 on the ship, which can be replaced with a system with 12 larger cells. A ship is expected to be able to sail 50% longer than current ships. In addition, it will be designed for operations, including in the Arctic space, while the Arleigh Burke destroyers were intended for operations mainly in tropical seas. That is, the US Navy does not particularly hide that they are planning to build a new ship to confront the Russian fleet in the Arctic.
As for the design of the ship's hull, it will be updated, unlike the previous ships. According to the Navy, while the developers of the program are not tied to any particular design, but most likely, the bow of the ship will be swept and angular. Currently, the specialists involved are studying all possible options for the design of the ship's hull. There is also a version that again correlates it with the stealth destroyer Zumwalt.
The cost of implementing the concept will be at least $ 1 billion per ship's hull. Separately, you will have to pay for all the technological "stuffing", weapons, additional equipment. But the US Navy believes that these costs are justified against the background of the risks that the promising ship is designed to prevent. At the same time, the American command did not really answer the question of what about the Zumwalt-class destroyers, for which so far they have found a worthy place in the Navy, despite the enormous cost of implementing the program.