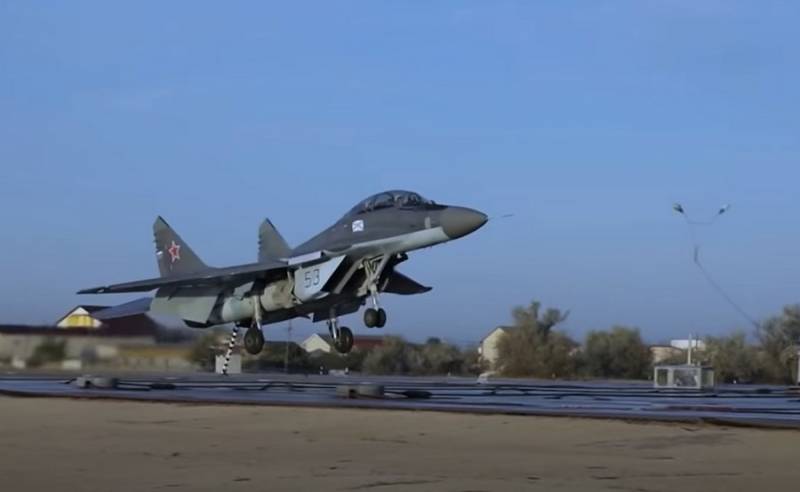 The only Russian aircraft carrier (aircraft-carrying cruiser) "Admiral Kuznetsov" will continue to undergo repairs at the 35th shipyard (a branch of the "Zvezdochka" Ship Repair Center). As follows from the plans for training the flight personnel of the shipborne fighter aviation regiments of the Northern
fleet
, all trainings will take place at the NITKA ground complex in the Crimea.
The press service of the Northern Fleet has published plans for the training of crews of carrier-based fighters Su-33 and MiG-29K for 2022. According to the documents, all trainings will be conducted at the ground engineering and technical aviation complex (NITKA), which simulates the flight deck of the Admiral Kuznetsov. Details of the training were not reported, in 2021 the crews of the deck
aviation
were in Crimea alternately from August to October.
The NITKA complex in the Crimea completely repeats the take-off deck of the aircraft-carrying cruiser "Admiral Kuznetsov" and is used by deck aviation pilots for training. The second onshore complex, under construction in Yeisk, will be commissioned no earlier than the beginning of 2022.
There is no mention of the ship itself in the message.
Meanwhile, as the USC announced earlier, the aircraft-carrying cruiser "Admiral Kuznetsov" is planned to be placed in dry dock this summer, and transferred to the military next year, 2023, most likely closer to the middle of the year. However, not everything is so simple and the terms can be shifted to the right. The thing is that the ship needed to replace all boiler and turbine installations, and not one, as previously planned. According to the head of the USC Alexei Rakhmanov, said at the end of September 2021, if any other defects are found, the repair may be delayed. While the ship repairers plan to complete the dock work on the ship by the beginning of 2023, the rest of the work - by the summer.