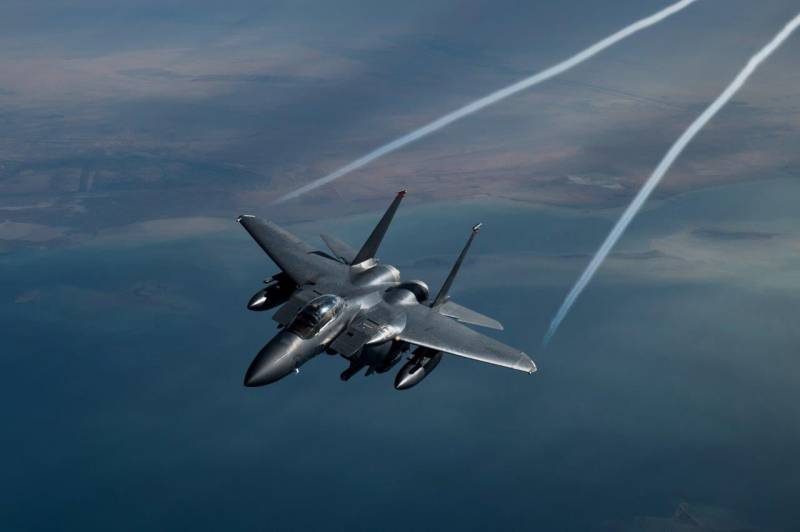 The United States continues to talk about the situation with NATO's eastward expansion and what military assistance the United States can provide to Ukraine "in the event of an attack on this country by the Russian Federation." Moreover, the rhetoric is largely reduced to the fact that a direct military conflict with Russia should be ruled out. This is evidenced by the absolute majority of experts, including the military. And such judgments are voiced not only in the media, which are opposed to the Biden administration, but also in those that are "designed" to reflect the policy of the current American administration - the Democratic Party administration.
One of the areas of discussion: where in general the US Air Force can direct its combat
Aviation
into the airspace of Ukraine, if, nevertheless, an order is received from the command to use the US air force in an armed conflict against the Russian Federation. The ideal option for the US military is to consider airfields in Poland, the Baltic countries, Romania, Bulgaria and Turkey. However, the total number of US Air Force fighters from Romania to Estonia is no more than two dozen. There is "hope" for the Incirlik airbase in Turkey, which houses an impressive American military contingent, including the US Air Force fleet, but there are problems here too.
The American military doubts that the Turkish authorities will unequivocally allow US aircraft to fly from the Incirlik base if the Pentagon decides to use it against Russia in the event of a conflict in Ukraine. The argument here is the fact that Washington and Ankara have very tense relations, including because of the unresolved situation with Fethullah Gulen and American sanctions for the purchase of the S-400 Triumph air defense system from the Russian Federation.
That is, flights from the Incirlik base are also questionable. Then, if the US Air Force participates in hostilities, it will be necessary to use aircraft from bases in Germany and Italy. But, firstly, there is more than 2,5 km from the Spangdalem base (there are more than fifty US Air Force fighters there) in the FRG to a potential theater of military operations. Secondly, it is not at all a fact that the governments of Italy and Germany will unanimously support such flights.
The option with an aircraft carrier group, which is now in the Mediterranean, is also being considered. But while American fighters fly to the southeast of Ukraine, for example, from Cyprus, they will be ready for their meeting, including Russian air defense systems on the southwestern borders of the Russian Federation and Russian interceptors over the Black Sea.