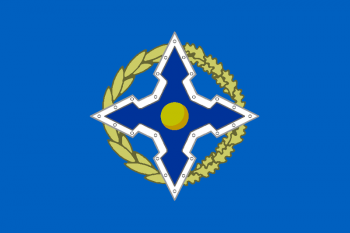 The unstable situation in the Caucasus and Central Asia forces the CSTO countries to unite troops. The CSTO Secretary General Nikolai Bordyuzha stated this during the Coordination Meeting of the Chairmen of the CSTO Parliamentary Committees (Commissions) on Defense and Security of the CSTO Parliaments held in the National Assembly of Armenia, NovostiNK.ru reports.
As Bordyuzha noted, "taking into account the development of the situation in the world, today we must take even more effective and active measures in order to increase military cooperation."
"That's why the relevant proposals have been worked out. They concern, first of all, the improvement of the CSTO military organization. We propose the creation of CSTO troops, combining all existing components. These are peacekeeping forces, CRRF, bilateral groups, and rapid deployment forces in the Central Asian region, in these troops additionally enable and create collective
aviation
component, that is, aviation, which can: engage in the transportation of personnel and formations, if necessary, localize certain conflicts, provide combat cover for operations, "said ODBC General Secretary Nikolai Bordyuzha.
Recall that in Armenia, at the Bagramyan test site, from September 15 to 19, joint exercises of the CSTO "2012" Collective Operational Response Forces are held. In the final stage of the exercise, Russian Defense Minister Anatoly Serdyukov will take part.
The military component of the CORF consists of formations and units of constant combat readiness. The total strength of the CSTO CRRF is estimated at about 20 thousand people, half of whom are Russian soldiers.
CSTO participants after the suspension of Uzbekistan's membership remain Armenia, Belarus, Kazakhstan, Kyrgyzstan, Russia and Tajikistan.
The Collective Security Treaty Organization was created on the basis of the Collective Security Treaty, signed on 15 on May 1992 by the CIS member countries.