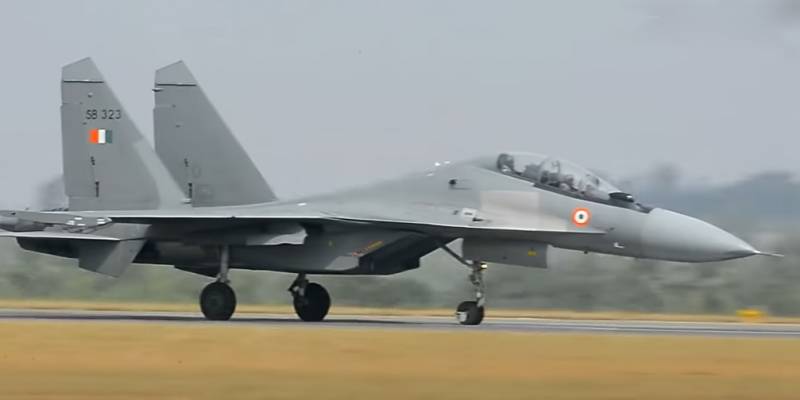 Tests of the most talked about Indian rocket, BrahMos, took place at the Chandipur test site off the coast of Odisha. Odisha is the former state of Orissa in eastern India, overlooking the Bay of Bengal.
One of the Su-30MKI fighters, which are in service with the Indian Air Force, was selected for testing. The total number of Su-30MKI aircraft in the Indian Air Force is 255, according to open sources. According to the Indian Ministry of Defense, the supersonic missile launched from the aircraft flew along a given trajectory in compliance with the mission's tasks.
Ранее
aviation
the BrahMos version was tested in July 2021. The missile, we recall, has a flight range of 300 km and a maximum speed of 2,89 M. At the same time, the Indian military is dreaming of a further increase in the missile's flight speed, but it is too early to talk about higher speed indicators.
In the statement of the Indian military department on the launch of the rocket, the nuance is also emphasized that the main components of the engine were developed by the Indian military industry. This is a very important clarification for the country, since in recent years New Delhi has been implementing a program to accelerate the development of its own military industry in the country. Thus, the assembly of BrahMos Aerospace missiles is carried out in Hyderabad, but the Russian side also participates in the creation of the Indian missile, in particular, the Strela OJSC in Orenburg.
Recall that the sea and ground versions of the BrahMos missile, produced jointly by Russia and India, are already being operated by the Indian armed forces. Now it is the turn of the air version, the delivery of which to the armament of the Indian Air Force aircraft will significantly increase the combat power and capabilities of the Indian military aviation. This is a very urgent task for New Delhi, given the difficult situation both on the Indo-Pakistani and Indo-Chinese borders.