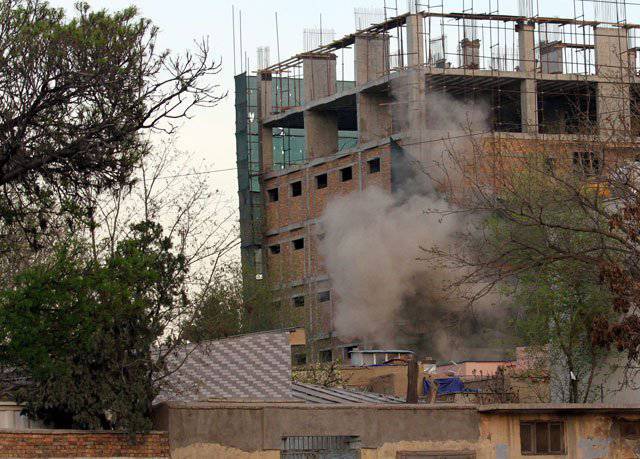 The Taliban militants who attacked the British military base Camp Bestion in Afghanistan last Friday destroyed six coalition combat aircraft and three refueling stations. In addition, six aircraft hangars were damaged.
As it turned out, the attackers were wearing American military uniforms, ITAR-TASS reports. From 15, the 14 militants were killed, one was captured. Earlier it was reported that as a result of mortar shelling of a British air force base in Helmand province, two US Marine Corps soldiers were killed, and nine others were injured.
According to representatives of the US Command, the attack was planned in advance. Militants broke through the base perimeter and used mortars, rockets, grenade launchers, as well as light
weapon
. Some of them had suicide belts filled with explosives with them.
One of the field commanders said that the main target of the attack was the British prince Harry, who arrived in Afghanistan last week and passed the last qualifying examination for serving as a co-pilot of the Apache helicopter. On the eve of the third in line, the heir to the throne of the United Kingdom celebrated its 28 anniversary.
Last week, Taliban militants threatened that they would make every effort to capture or capture the prince in the coming months, Harry, who is known among his co-workers as captain Wales, arrived in Afghanistan on September 7. His duties as a co-pilot of a combat helicopter include selecting ground targets and attacking them, supporting ground units from the air and escorting airplanes.
As previously stated in the British Ministry of Defense, the first 10 days are provided to the prince for acclimatization and training, after which he will begin regular departures. In particular, the prince has already completed a familiarization course on how to act in the event of the discovery of a suspicious object or a rocket attack on the base, as well as on rendering first aid.
Harry's current mission as part of the British contingent in Afghanistan is the second in a row. At the end of 2007 - the beginning of 2008, he was there in the army for ten weeks as an artillery gunner. Then he was recalled to his homeland before the scheduled date for security reasons due to the fact that the media had disclosed his whereabouts. However, this time the media have already reported the exact coordinates of the base where the prince will be located.